Otherworld (Hardcover)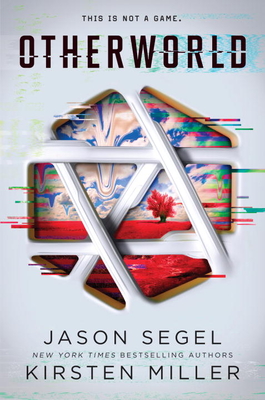 Staff Reviews
---
Otherworld, set in the near future, asks the important question of what real-world sacrifices people would be willing to make when offered the chance to immerse themselves in a virtual reality that engages all their senses. The mysterious Company that constructed Otherworld promises players a chance to live their "best lives," with "No laws. No limits. No judgements." But what are the consequences of (virtually) living without limits, whether engaging in survival tactics, or indulging one's secret desires? What may be one participant's utopia may be another's nightmare. Teens Simon and Kat, once the closest of friends in real life, now are only able to connect in Otherworld. When Simon is desperately seeking Kat, he discovers much more than they bargained for.
— From
Nifty Novels and More from Maryelizabeth
Description
---
"Full of high stakes, thrillers, and fantastic twists and turns, fans of Ready Player One are sure to love this addictive read." --Buzzfeed

"A potent commentary on how much we're willing to give up to the lure of technology." --EW "A fantastic journey from start to finish." --Hypable

New York Times bestselling authors Jason Segel and Kirsten Miller imagine a world in which you can leave your body behind and give into your greatest desires in the first book in a fast-paced trilogy perfect for fans of the hit HBO show Westworld and anyone interested in the terrifying possibilities of the future of technology. That's how Otherworld traps you. It introduces you to sensations you'd never be able to feel in real life. You discover what's been missing--because it's taboo or illegal or because you lack the guts to do it for real. And when you find out what's missing it's almost impossible to let it go again. There are no screens. There are no controls. You don't just see and hear it--you taste, smell, and touch it too. In this new reality, there are no laws to break or rules to obey. You can live your best life. Indulge every desire. This is Otherworld--a virtual reality game so addictive you'll never want it to end. And Simon has just discovered that for some, it might not. The frightening future that Jason Segel and Kirsten Miller have imagined is not far away. Otherworld asks the question we'll all soon be asking: if technology can deliver everything we want, how much are we willing to pay? "An engaging VR cautionary tale." --The A.V. Club " A] fast-paced adventure." --Publishers Weekly "Authors Jason Segel and Kirsten Miller keep the action nonstop." --Shelf Awareness
About the Author
---
Jason Segel is an actor, a writer, and an author. Segel wrote and starred in Forgetting Sarah Marshall and co-wrote Disney's The Muppets, which won an Academy Award for Best Original Song. Segel's film credits include The End of the Tour; I Love You, Man; Jeff Who Lives at Home; Knocked Up; and The Five-Year Engagement. On television, Segel starred on How I Met Your Mother as well as Freaks and Geeks. He is the coauthor of the New York Times bestselling Nightmares! series--Nightmares!; Nightmares! The Sleepwalker Tonic; Nightmares! The Lost Lullaby; and Everything You Need to Know About NIGHTMARES! and How to Defeat Them. Otherworld is his first novel for young adults. Follow Jason on Twitter at @JasonSegel. Kirsten Miller lives and writes in New York City. She is the author of the acclaimed Kiki Strike books, the New York Times bestseller The Eternal Ones, and How to Lead a Life of Crime. Otherworld is the fifth novel Kirsten has written with Jason Segel. You can visit her at kirstenmillerbooks.com or follow @bankstirregular on Twitter.