Crossbones Yard (Hardcover)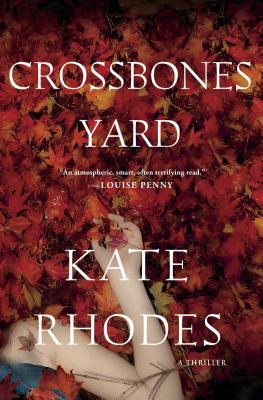 Staff Reviews
---
Are you a runner?  Do you like London?  Are you curious about how a serial killer's mind works?  If you answer yes to any of the questions, then partner with psychologist Alice Quentin as she races throughout England's capital to discover a copycat torturer and killer of women.  Six years ago, a couple - since apprehended - mutilated and murdered a baker's dozen women.  Now a copycat is using their methods to disfigure and destroy a new set of victims.  Although beset by her own family demons and trust issues, Quentin aids the police in profiling the murderer and discovers uncomfortable connections to her life and the people who inhabit it.  Does she know the killer?  After all, can it be coincidence that Quentin has stumbled over two of the bodies?  Keep pace with Quentin as solves her first crime and discovers unsettling truths about the people surrounding her life.
— From
Adrean Darce Brent
Description
---
Introducing Alice Quentin, a London psychologist with family baggage, who finds herself at the center of a grisly series of murders
Alice Quentin is a psychologist with some painful family secrets, but she has a good job, a good-looking boyfriend, and excellent coping skills, even when that job includes evaluating a convicted killer who's about to be released from prison. One of the highlights of her day is going for a nice, long run around her beloved London it's impossible to fret or feel guilty about your mother or brother when you're concentrating on your breathing until she stumbles upon a dead body at a former graveyard for prostitutes, Crossbones Yard.
The dead woman's wounds are alarmingly similar to the signature style of Ray and Marie Benson, who tortured and killed thirteen women before they were caught and sent to jail. Five of their victims were never found. That was six years ago, and the last thing Alice wants to do is to enter the sordid world of the Bensons or anyone like them. But when the police ask for her help in building a psychological profile of the new murderer, she finds that the killer and the danger to her and the people she cares about may already be closer than she ever imagined.
With gripping suspense and a terrific new heroine, Kate Rhodes's "Crossbones Yard "introduces a powerful new voice in crime fiction.
About the Author
---
KATE RHODES was born in London and lives in Cambridge, England. She completed a doctorate in American literature, then taught English at universities in Britain and the United States. She has published two collections of poetry, and has received a number of honors and awards for her writing. "Crossbones Yard "is her debut novel.
Praise For…
---
"First-rate writing." —Publishers Weekly

"A pacy psychological thriller that makes good use of its London setting." —The Guardian "A promising debut." —The Telegraph "Deftly woven...[with] a cast of really believable and entertaining characters. Both the plot and the writing keep on thoroughly engaged throughtout." —Daily Mail "An utterly brilliant, exhilarating read and I devoured every page. The characters, especially the bold and brave heroine, are touchingly real. Now that I've finished it I feel bereft, the only consolation being that it's the start of an Alice Quentin series and although I have a while to wait, I will get to read more." —Elizabeth Haynes, author of In the Darkest Corner

"A very impressive debut. After a powerful opening, Kate's vivid, pacy writing style swept me into the story. Alice is a very strong character, and the well-constructed, complex plot kept me intrigued right up to the end." —Aline Templeton, author of Cradle to Grave "An atmospheric, smart, often terrifying read." —Louise Penny, #1 New York Times bestselling author of the Chief Inspector Armand Gache series 
"A first novel by the British poet Kate Rhodes, is a fast-moving, entertaining mix of sex, suspense and serial killings." —The Washington Post