Shadow and Bone (Grisha Trilogy #1) (Paperback)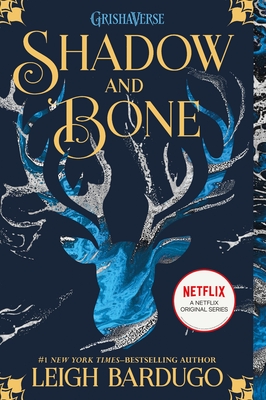 Staff Reviews
---
Young Adult
We predict "Tsarpunk" will become all the rage after readers get a taste of Leigh's Grisha trilogy, based in Russian and Slavic myth. Junior cartographer's assistant Alina Starkov's regiment's first encounter with the Shadow Fold that divides her country, Ravka, has mortal consequences for most of her companions. But Alina's heretofore unknown power to summon light to banish the flesh-devouring monsters that dwell in the Shadow Fold brings her the unanticipated honor of being trained as a member of the elite Grisha, and the attention of the nation's most prominent "master of the small sciences," the Darkling. Lush, romantic, and filled with the small conflicts of coming of age against the larger conflicts of a nation in turmoil. Highly recommended.
– Maryelizabeth
Summer 2012 Kids' Next List
---
"This debut fantasy riffs on Russian history and folklore. The orphan, Alina, doesn't know that she controls powers beyond her mapmaker trade and is thrust into royalty and the Darkling's inner circle, the magical, elite Grishas. With vivid characters, exciting and twisty plots, monsters, romance, and a fully developed otherworld, this is a high fantasy thriller of the first order. I look forward to more from this talented author!"
— Maureen Palacios, Once Upon a Time, Montrose, CA
Description
---
Enter the Grishaverse with Book One of the Shadow and Bone Trilogy by the #1 New York Times-bestselling author of Six of Crows and Crooked Kingdom.

Soldier. Summoner. Saint. Orphaned and expendable, Alina Starkov is a soldier who knows she may not survive her first trek across the Shadow Fold--a swath of unnatural darkness crawling with monsters. But when her regiment is attacked, Alina unleashes dormant magic not even she knew she possessed.
Now Alina will enter a lavish world of royalty and intrigue as she trains with the Grisha, her country's magical military elite--and falls under the spell of their notorious leader, the Darkling. He believes Alina can summon a force capable of destroying the Shadow Fold and reuniting their war-ravaged country, but only if she can master her untamed gift.
As the threat to the kingdom mounts and Alina unlocks the secrets of her past, she will make a dangerous discovery that could threaten all she loves and the very future of a nation.
Welcome to Ravka . . . a world of science and superstition where nothing is what it seems.
A New York Times Bestseller
A Los Angeles Times Bestseller
An Indie Next List Book
This title has Common Core connections.
Praise for the Grishaverse
"A master of fantasy." --The Huffington Post
"Utterly, extremely bewitching." --The Guardian
"The best magic universe since Harry Potter." --Bustle
"This is what fantasy is for." --The New York Times Book Review
" A] world that feels real enough to have its own passport stamp." --NPR
"The darker it gets for the good guys, the better." --Entertainment Weekly
"Sultry, sweeping and picturesque. . . . Impossible to put down." --USA Today
"There's a level of emotional and historical sophistication within Bardugo's original epic fantasy that sets it apart." --Vanity Fair
"Unlike anything I've ever read." --Veronica Roth, bestselling author of Divergent
"Bardugo crafts a first-rate adventure, a poignant romance, and an intriguing mystery " --Rick Riordan, bestselling author of the Percy Jackson series
"This is a great choice for teenage fans of George R.R. Martin and J.R.R. Tolkien." --RT Book Reviews
Read all the books in the Grishaverse
The Shadow and Bone Trilogy
(previously published as The Grisha Trilogy)
Shadow and Bone
Siege and Storm
Ruin and Rising
The Six of Crows Duology
Six of Crows
Crooked Kingdom
The Language of Thorns: Midnight Tales and Dangerous Magic
About the Author
---
Leigh Bardugo is a #1 New York Times-bestselling author of fantasynovels and the creator of the Grishaverse. With over one million copies sold, her Grishaverse spans the Shadow and Bone Trilogy, the Six of Crows Duology, and TheLanguage of Thorns--with more to come. Her short stories can befound in multiple anthologies, including Some of the Best from Tor.com and The Best American ScienceFiction & Fantasy. Her other works include Wonder Woman: Warbringer andthe forthcoming Ninth House. Leigh was born in Jerusalem, grew up in Los Angeles, graduated from Yale University, and has worked inadvertising, journalism, and even makeup and special effects. These days, shelives and writes in Hollywood, where she can occasionally be heard singing withher band.leighbardugo.comgrishaverse.com
Praise For…
---
'Danger and duplicity abound (is the Darkling good or evil?) in this lavish portrayal of a country reminiscent of Imperial Russia."--VOYA
"Set in a fascinating, unique world rich with detail, Shadow and Bone was unlike anything I've ever read."  —Veronica Roth, New York Times bestselling author of Divergent
"Fast-paced and unpredictable, this debut novel will be a hit with readers who love dark fantasy."--School Library Journal, starred
"Mesmerizing…Bardugo's set up is shiver-inducing, of the delicious variety. This is what fantasy is for."--New York Times
"A rich fantasy landscape, an inspired magical structure, and a gratifying emotional hook keep the pages whirring by until a final twist upends assumptions and lands us smack in the middle of a harrowing climax. "--Horn Book Magazine
"Filled with lush descriptions, intriguing magic, and plenty of twists, this memorable adventure offers action and intrigue mixed with an undercurrent of romance and danger."--Publishers Weekly
"The plotting is powerful…"--Kirkus
"Bardugo weaves a captivating spell with lushly descriptive writing, engaging characters, and an exotic, vivid world. Readers will wait impatiently for the next installment."—Booklist
"Romantic and magical…Plenty of plot twists and betrayals kept us enjoying this richly-crafted adventure until the very last page. (P.S. A do-not-miss for fans of Graceling.)" --Justine Magazine
"A well-drawn world, full of deceit and mythology, populated by entirely believable characters. Full of truly surprising twists and turns, beautiful imagery and a protagonist it's impossible not to root for, this is a great choice for teenage fans of George R.R. Martin and J.R.R. Tolkien."--RT Book Reviews
"This is one book series you want to get hooked on." --Seventeen.com
"This gripping debut novel, with a touch of magic and romance, about two orphans thrown together during a century-old war will keep readers burning the midnight oil." --Shelf Awareness