Heartless (Hardcover)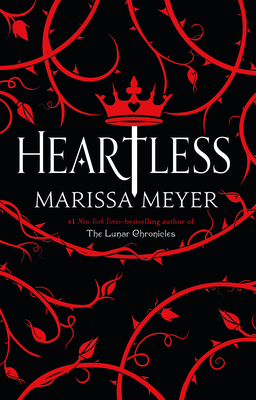 Staff Reviews
---
In her first stand-alone teen novel, Marissa tells the story—and what a story it is—of the young Lady Catherine Pinkerton who will live on to become the infamous and terrifying Queen of Hearts. Set in Lewis Carroll's one hundred and fifty-year old Wonderland, Meyer brings his characters to life with her own original blend of madness, magic and monsters. The squat silly king has decided young Cath should be his bride, however, she has dreams of opening the best bakery in Wonderland and has fallen quite in love with the new, enigmatic and handsome court jester. Enjoy the Mad hatter, Cheshire cat, Jack the Knave of Hearts, the White Rabbit and all the well-loved inhabitants of Wonderland as the story turns deliciously dark and no one lives happily ever after. Just too much fun to miss!
— From
Bunny's Books
Description
---
The #1 NEW YORK TIMES bestseller that Gregory Maguire (Wicked and After Alice) calls "full of heart."
Long before she was the terror of Wonderland, she was just a girl who wanted to fall in love.
Catherine may be one of the most desired girls in Wonderland, and a favorite of the unmarried King of Hearts, but her interests lie elsewhere. A talented baker, all she wants is to open a shop with her best friend. But according to her mother, such a goal is unthinkable for the young woman who could be the next queen.
Then Cath meets Jest, the handsome and mysterious court joker. For the first time, she feels the pull of true attraction. At the risk of offending the king and infuriating her parents, she and Jest enter into an intense, secret courtship. Cath is determined to define her own destiny and fall in love on her terms. But in a land thriving with magic, madness, and monsters, fate has other plans.
In her first stand-alone teen novel, the New York Times-bestselling author dazzles us with a prequel to Alice's Adventures in Wonderland.
About the Author
---
Marissa Meyer's first book in the Lunar Chronicles, Cinder, debuted on the New York Times bestseller list. Marissa lives in Tacoma, Washington, with her husband and their three cats.
Praise For…
---
#1 NEW YORK TIMES Bestseller!
A Publishers Weekly Bestseller!

"In Heartless, the nonsense that is Wonderland gets a reverential makeover, full of heart and its own idiosyncratic character."--Gregory Maguire, WICKED and AFTER ALICE

"What Gregory Maguire did for the Wicked Witch, Meyer does for Lewis Carroll's Queen of Hearts, tracing her arc from a teen with dreams of owning a bakery into a murderous madwoman."—People magazine
"The author's best fantasy yet. ...Meyer has woven all the elements of darkness and light, fate and free will, and love and hatred into an unforgettable story of the evolution of the Red Queen from a young girl who dreamed of true love and freedom to a madwoman best remembered for the phrase 'Off with his head.' If you only read one fractured fairy tale this year, make it Heartless. A must-have title.--School Library Journal, starred review
Praise for Marissa Meyer's Lunar Chronicles series:

#1 New York Times Bestselling Series
USA Today Bestseller
Publishers Weekly Bestseller
National IndieBestseller
"A mash-up of fairy tales and science fiction . . . a cross between Cinderella, The Terminator,and Star Wars." —Entertainment Weekly
"Prince Charming among the cyborgs." —The Wall Street Journal
"Terrific." —Los Angeles Times
"A binge-reading treat." —MTV
"Marissa Meyer rocks the fractured fairy tale genre." —The Seattle Times
"Epic . . . Breathtaking." —Teen Vogue
"Utterly thrilling." —Publishers Weekly
"Wonderfully addictive." —Buzzfeed