A Death by Any Other Name: A Mystery (Lady Montfort Mystery Series #3) (Hardcover)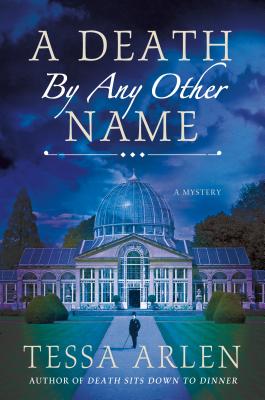 $25.99
Usually Ships in 1-5 Days
Description
---
A Death by Any Other Name is a delightful Edwardian mystery set in the English countryside. Building on the success of her last two mysteries in the same series, Tessa Arlen returns us to the same universe full of secrets, intrigue, and, this time, roses.
The elegant Lady Montfort and her redoubtable housekeeper Mrs. Jackson's services are called upon after a cook is framed and dismissed for poisoning a guest of the Hyde Rose Society. Promising to help her regain her job and her dignity, the pair trek out to the countryside to investigate a murder of concealed passions and secret desires. There, they are to discover a villain of audacious cunning among a group of mild-mannered, amateur rose-breeders. While they investigate, the rumor mill fills with talk about a conflict over in Prussia where someone quite important was shot. There is talk of war and they must race the clock to solve the mystery as the idyllic English summer days count down to the start of WWI.
Brimming with intrigue, Tessa Arlen's latest does not disappoint.
About the Author
---
Tessa Arlen, the daughter of a British diplomat had lived in, or visited her parents in: Singapore, Berlin, The Persian Gulf, Beijing, Delhi and Warsaw by the time she was sixteen. She came to the U.S. in 1980 and worked as an H.R. recruiter for the Los Angeles Olympic Organizing Committee for the 1984 Olympic Games, where she interviewed her future husband in 1983 for a job. She lives in New Mexico.
Praise For…
---
"Arlen recreates a richly detailed pre-WWI England, seamlessly weaving historical events and people into her well-written third Lady Montfort mystery... Lovers of traditional English country house mysteries will enjoy this story very much"—Publishers Weekly on A Death by Any Other Name

"Arlen's delightful mix of upstairs and downstairs conveys the complexities of a hidebound class system on the verge of change.... The narrative is helped along by a slew of red herrings, a fast-moving plot, and fine descriptive passages." —Historical Novel Society on A Death by Any Other Name

"Poisoned kedgeree is an unlikely murder weapon — but not in A Death by Any Other Name, the third in Bainbridge Islander Tessa Arlen's engaging series about Lady Montfort and her down-to-earth housekeeper, Mrs. Jackson . . . Bonus: a charming supporting performance by the famous real-life garden designer Gertrude Jekyll." —Seattle Times

"Tessa Arlen returns with another intriguing mystery to be solved by the Countess of Montfort and her housekeeper Edith Jackson, a reluctant Watson to Lady Clementine's enthusiastic Sherlock. Roses in the conservatory, crumpets in the drawing room, and news of an assassination in Sarajevo—Arlen skillfully captures the uneasy moods and mores of the time." —Margaret Maron, award-winning author of the Deborah Knott series on A Death by Any Other Name
"This pitch perfect classic whodunit beautifully captures that brief moment when the world waited to hear whether war may be averted. Tessa Arlen's observations of her characters and the intricacies of the English class system are conveyed with sparkling insight and wry humour. The sense of place and time is captured through precise telling details. This is a charming story with the bonus of exploring the British love of gardening as the storm among the Hyde rosarians is played out against historical events. It's a delight to be in the company of two such captivating sleuths." — Frances Brody, author of the Kate Shackleton mysteries on A Death by Any Other Name

"While A Death by Any Other Name easily reads as a standalone, do yourself a favor and buy all three Lady Montfort novels – then wait until the next time it's pouring and immerse yourself in this series. I love it and cannot wait for book four!" —The Pretty Good Gatsby Blog
"Once you read this book you won't rest until you've read them all.... There are so many reasons I love this series: great characters, great plot, the time period, and, of course, there's nothing like a good whodunit." —To Read of Not to Read Blog on A Death by Any Other Name

"A Death by Any Other Name is a lovely, cozy mystery that is fast paced without being frenzied or too stressful -- sometimes I really enjoy this beautiful type of mystery -- the scenery is lovely, the people are polite and refined and yet the mystery is engaging and the resolutions is satisfactory" —A Book Geek Blog
"Arlen does a good job of depicting a period when class distinctions have become blurred by new money and more relaxed manners. The plot, which includes a slew of red herrings, builds to a startling denouement." —Publishers Weekly on Death Sits Down to Dinner
"A neatly crafted whodunit that drips with diamonds, titles, and scandals." —Kirkus Reviews on Death Sits Down to Dinner