The Traitor's Kiss (Traitor's Trilogy #1) (Hardcover)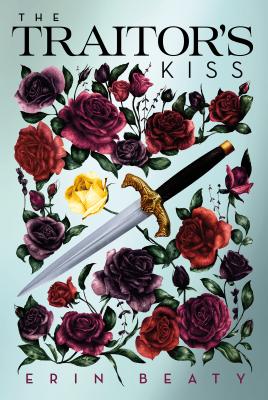 $18.99
Usually Ships in 1-5 Days
Staff Reviews
---
​The Traitor's Kiss by Erin Beaty
A strong and determined woman leads this fantastic cast of characters in a page-turning adventure sure to please many YA readers. Sage Fowler is just 16 years old, but she has had a rich upbringing as the only child of a father who teaches her about the riches of the natural world and the fascinating world found in books, despite the world she lives in that doesn't regard these activities as appropriate for women. That she is naturally brilliant and analytical makes her uniquely qualified for the role she will take in her personal future, and in the future of her country. She is determined not to marry and to find a job to support herself, and this eventually leads her to apprentice to the town's matchmaker. It turns out that her analytical skills and acute observations make her perfect for the job. And that is where this adventure starts. Then, intrigue, military maneuvers, matchmaking, spies, smart characters, and lots of action mark the beginning of a wonderful debut trilogy by an author to watch. 
— Terry
Description
---
An obstinate girl who will not be married.
A soldier desperate to prove himself.
A kingdom on the brink of war.
With a sharp tongue and an unruly temper, Sage Fowler is not what they'd call a proper lady—which is perfectly fine with her. Deemed unfit for a suitable marriage, Sage is apprenticed to a matchmaker and tasked with wrangling other young ladies to be married off for political alliances. She spies on the girls—and on the soldiers escorting them.
As the girls' military escort senses a political uprising, Sage is recruited by a handsome soldier to infiltrate the enemy ranks. The more she discovers as a spy, the less certain she becomes about whom to trust—and Sage becomes caught in a dangerous balancing act that will determine the fate of her kingdom.
With secret identities and a tempestuous romance, Erin Beaty's The Traitor's Kiss is full of intrigue, espionage, and lies.
An Imprint Book
"One of the most hotly anticipated young adult fantasy reads of 2017" —Bustle
"An action-packed, expertly plotted story, drenched in double crosses and intrigue, with an irresistible heroine and a sweet and sexy romance."—Publishers Weekly, starred review
"Complex characterization, deftly layered adventure story, and [a] balanced blend of political maneuvering, romantic interludes, and action scenes." —Kirkus Reviews

"Beaty balances a taut web of deceit...readers will be carried away by the mystery." —The Bulletin of the Center for Children's Books (BCCB)
About the Author
---
Erin Beaty was born and raised in Indianapolis, Indiana, which means she can't drive a tractor, but she won't eat veggies that come from a can. She graduated from the US Naval Academy with a degree in rocket science and somehow always ended up writing her study group's lab reports. After serving in the fleet as a weapons officer and a leadership instructor, it still amazes her when other people want to hear the stories that come out of her head.
She and her husband have five children, two cats, and a vegetable garden and live wherever the navy tells them to go.
The Traitor's Kiss is her debut novel.
Praise For…
---
"One of the most hotly anticipated young adult fantasy reads of 2017" —Bustle
"An action-packed, expertly plotted story, drenched in double crosses and intrigue, with an irresistible heroine and a sweet and sexy romance."—Publishers Weekly, starred review
"Complex characterization, deftly layered adventure story, and [a] balanced blend of political maneuvering, romantic interludes, and action scenes." —Kirkus Reviews

"Beaty balances a taut web of deceit...readers will be carried away by the mystery." —The Bulletin of the Center for Children's Books (BCCB)