Crazy Blood: A Novel (Paperback)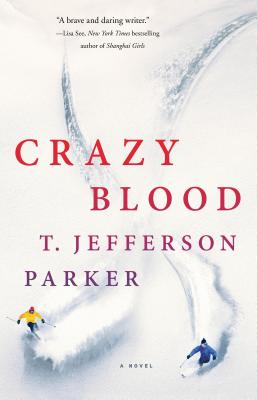 Staff Reviews
---
The Carson dynasty is cursed, or so some say. The family certainly does have its share of crazies, scoundrels, legends and the entitled.
The story opens and ends with the voice of Cynthia Carson who twenty-five years ago shot her husband in cold blood, absolutely positively. Throughout the story, I really wanted to dislike Cynthia, but she would occasionally surprise the reader. The concentric circle of characters begins with Wylie Wellborn, illegitimate son of Cynthia's dead husband; her own sons, Robert and Sky; Adam Carson -- grandfather to all three;, Wylie's sisters and his mother; and finally, Cynthia.
The Carson and Wellborn families both experience heartache and desperation.
None of the book's characters is without fault, some more than others. How each individual deals with their own demons reveals the complexities of human nature.
The story is set against the backdrop of Mammoth Lakes ski resort, with its fantastic vistas and adrenaline pumping ski runs.
I was intrigued by the complicated families and their histories; the mysteries surrounding who is lurking around the Wellborn home and the theft of ski equipment, bicycles, etc. and who would ultimately survive.
Meet T. Jefferson Parker in San Diego on March 24th!
— From
Christine's Choices
Description
---
The Carson dynasty rules the ski resort town of Mammoth Lakes in the Sierra Nevada Mountains in California. Founded by patriarch Adam, the town is the site of the Mammoth Cup ski race—a qualifier for the Olympics. But when Wylie Welborn, Adam's illegitimate grandson, returns after a stint in Afghanistan, it reopens a dark moment in Carson family history: the murder of Wylie's father by his jealous and very pregnant wife, Cynthia. Her son Sky, born while his mother was in prison, and Wylie are half-brothers. They inherit not only superb athletic skills but an enmity that threatens to play out in a lethal drama on one of the fastest and most perilous ski slopes in the world.
Three powerful and unusual women have central roles in this volatile family feud: Cynthia, bent on destroying Wylie; his mother Kathleen, determined to protect him; and April Holly, a beautiful celebrity snowboarder, on track to win Olympic Gold. But, as Wylie falls in love with April and they begin to imagine a life away from the violence that has shattered his family, history threatens to repeat itself and destroy them both.
Combining exquisite writing with breathtaking scenes of high stakes skiing, T. Jefferson Parker's Crazy Blood is an unforgettable story of two brothers on a ruthless quest for supremacy.
About the Author
---
T. JEFFERSON PARKER is the bestselling author of numerous novels, including Storm Runners and The Fallen. Alongside Dick Francis and James Lee Burke, Parker is one of only three writers to be awarded the Edgar Award for Best Novel more than once. Parker lives with his family in Southern California.
Praise For…
---
"An intricate and atmospheric family drama reminiscent of the works of T.C. Boyle and John Steinbeck." —Library Journal
"The story of Wylie's return to ski-cross racing and to civilian life is compelling, and the addition of Parker's strong dose of foreshadowing propels the story to a dramatic climax. A fun, fast-paced thriller." —Booklist
On Full Mearuse
"Parker, known for his crime novels, delivers an emotional and gut-wrenching literary departure that's miles away from what his fans and readers would expect in Full Measure. . . . Parker has a gift for storytelling, and Full Measure is realistic on every level." —Associated Press
"A tense and compelling drama of the wars without and the wars within—and of the flame of violence that burns through the American psyche." —T.C. Boyle, New York Times bestselling author of The Women

"A novel that is not only supremely readable — that's true of all Parker's fiction — but is also a moving, sometimes heartbreaking portrait of what often seems a lost generation. . . . artfully composed and painfully honest." —Washington Post
"Parker's skillful narrative builds up to revealing, with suspenseful subplots—a romance with a local reporter, a hit-and-run whodunit, a troubled brother drawn into the orbit of a racist townie mechanic—woven into a satisfying finish. A departure from Parker's typical California crime fare, Full Measure looks at what it means to sacrifice for things you believe in—and things you don't." —Playboy
"An emotional and gut-wrenching literary departure. . . . Parker captures the experience of what it means for a soldier to return home. . . Parker has a gift for storytelling, and Full Measure is realistic on every level." —Star Tribune