The Steep and Thorny Way (Hardcover)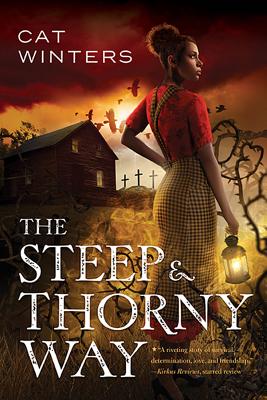 $17.95
Usually Ships in 1-5 Days
Staff Reviews
---
Elston, Oregon, in the 1920's has become a hateful and frightening place for Hanalee Denney. The war, the influenza epidemic, prohibition, and an emerging Ku Klux Klan have bred intolerance and hatred that are foreign to 16-year-old Hanalee, the daughter of a white woman and African American man. She remembers idyllic times with her father who was killed by 17-year-old drunken driver Joe Adder, who has just been released from prison. Joe is hiding in the woods of Northwestern Oregon since the town folks want him dead after rumors of Joe's homosexuality, yet another intolerable situation in these times. When Hanalee finds Joe's hiding place, he reveals that her father was not killed by accident, instead he suspects Hanalee's new stepfather as the killer. Hanalee knows there is some truth to his tale because her father's spirit roams the highway as a "haint" or a troubled ghost, unable rest in peace. The story of these two young outcasts and their attempts to uncover the truth is a triumph of an insightful and gripping history lesson of the time, as well as another accomplished ghost story from Cat.
— Bunny
Description
---
A thrilling reimagining of Shakespeare's Hamlet, The Steep and Thorny Way tells the story of a murder most foul and the mighty power of love and acceptance in a state gone terribly rotten.

1920s Oregon is not a welcoming place for Hanalee Denney, the daughter of a white woman and an African-American man. She has almost no rights by law, and the Ku Klux Klan breeds fear and hatred in even Hanalee's oldest friendships. Plus, her father, Hank Denney, died a year ago, hit by a drunk-driving teenager. Now her father's killer is out of jail and back in town, and he claims that Hanalee's father wasn't killed by the accident at all but, instead, was poisoned by the doctor who looked after him—who happens to be Hanalee's new stepfather.

The only way for Hanalee to get the answers she needs is to ask Hank himself, a "haint" wandering the roads at night.
About the Author
---
Cat Winters is the author of the critically acclaimed young adult novels Odd & True, The Steep and Thorny Way, The Cure for Dreaming, and In the Shadow of Blackbirds, which collected three starred reviews and was a finalist for the William C. Morris Award for debut YA fiction. She lives in Portland, Oregon.
Praise For…
---
**STARRED REVIEW**
"A fast-paced read with multiple twists, the novel delivers a history lesson wrapped inside a murder mystery and ghost story. Winters deftly captures the many injustices faced by marginalized people in the years following World War I as well as a glimmer of hope for the better America to come. A riveting story of survival, determination, love, and friendship."
**STARRED REVIEW**
" A powerful, gripping, and exceptionally well-executed glimpse into a little-known corner of U.S. history."
**STARRED REVIEW**
"Setting Hanalee in the backdrop of Prohibition-era Oregon, punched up with bootleggers, a hidden gay relationship, the public and private face of the Ku Klux Klan, and a dash of the supernatural makes for a delightfully unpredictable page-turner. VERDICT Unique and riveting historical fiction that feels anything but dated."
"History, mystery…for To Kill A Mockingbird fans."
This is genre-pushing historical fiction that will surprise and enlighten readers.