In the Blood: A Novel (Paperback)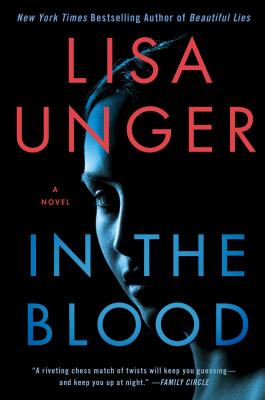 January 2014 Indie Next List
---
"Unger's taut prose, flawed characters, and very unreliable narrator will keep readers riveted from the first page to the last. Lana Granger has deep, dark secrets that she would like to keep hidden, but it seems that somebody wants to expose her. Thrills, chills, and too many suspects to count, this book has it all!"
— Susan Taylor, Book House of Stuyvesant Plaza, Albany, NY
Description
---
The masterful psychological thriller by New York Times bestselling author Lisa Unger—"good, scary fun" (The Washington Post).

Lana Granger lives a life of lies. She has told so many lies about where she comes from and who she is that the truth is like a cloudy nightmare she can't quite recall. About to graduate from college and with her trust fund almost tapped out, she takes a job babysitting a troubled boy named Luke. Expelled from schools all over the country, the manipulative young Luke is accustomed to controlling the people in his life. But, in Lana, he may have met his match. Or has Lana met hers?

When Lana's closest friend, Beck, mysteriously disappears, Lana resumes her lying ways—to friends, to the police, to herself. The police have a lot of questions for Lana when the story about her whereabouts the night Beck disappeared doesn't jibe with eyewitness accounts. Lana will do anything to hide the truth, but it might not be enough to keep her ominous secrets buried. Someone else knows about Lana's lies. And he's dying to tell.

"Savor the pleasure of being guided by Unger's sure hand along a deliciously twisted narrative path" (Kirkus Reviews). Masterfully suspenseful, finely crafted, and written with a no-holds-barred raw power, this is Lisa Unger at her best.
About the Author
---
Lisa Unger is an award-winning New York Times and internationally bestselling author. Her novels have sold more than two million copies and have been translated into twenty-six languages. She lives in Florida. Visit LisaUnger.com.
Praise For…
---

Praise for In the Blood:

"[A] brisk, crafty and fascinating psychological thriller . . . Offers plenty of good, scary fun — scenes that will make readers jump . . . [and] a reveal that will surely elicit a satisfied gasp from the reader. . . . In the Blood is a complex mosaic as well, one that's tricky, arresting and meaningful."

"In The Blood may be [Unger's] best one yet. . . . Keeps the shocks and twists coming at a breakneck pace."

"Always scary…Unger neatly distorts our perceptions, so there's no telling what is what. Well done."

"A riveting chess match of twists will keep you guessing—and keep you up at night."

"Prepare to be scared. Creepy characters, gripping plot, chilling description — this novel is a perfect weekend read . . . This is simply a great, scary psychological thriller."

"Unger pulls off a bravura feat. . . . Readers will … savor the pleasure of being guided by Unger's sure hand along a deliciously twisted narrative path. Another scary winner from an accomplished pro."

"[A] gripping novel of psychological suspense. . . [with a] tense, surprise-laden plot."
— Publishers Weekly (starred review)

"Nothing is what it seems as Unger pulls off some beautiful surprises in this intriguing thriller. . . . Masterfully told."

"A fantastic novel full of suspense and intrigue. Massively recommended."

"This fast-moving book is a rollercoaster thrill ride, withholding crucial facts and then pounding you with them as the chapters wind down. It's a quick, adrenaline-filled read with a slam-bang climax. Unger's skill with words, combined with a pace that never lets up, is guaranteed to keep the pages turning long past the midnight hour."

"Unger is a compelling storyteller whose tales rest on human frailty. . . . She makes it impossible to stop reading."

"The brisk plot churns."

"In the Blood is an absolute corker of a thriller that cements Lisa Unger's status as one of the brightest stars in the game."
— Dennis Lehane

"Reading In the Blood is like grabbing a live wire. . . . A shocking, unputdownable thriller."
— Karin Slaughter

"In the Blood is a riveting new thriller from Lisa Unger. Dark and haunting, with a deadly twist that you won't see coming 'til you're hit between the eyes, this book is a winner."
— Linda Fairstein

"In the Blood is a psychological thriller that played me--in the best sense--from beginning to surprising end. I guarantee Lisa Unger will pull the rug out from under you more than once, so hold tight."
— Andrew Pyper

"Unger's latest offering is full of engaging twists and turns. . . . Skillfully keeps the reader guessing. . . Fans of mystery and psychological suspense. . . will be delighted with this imaginative story."