The Intern's Handbook (Hardcover)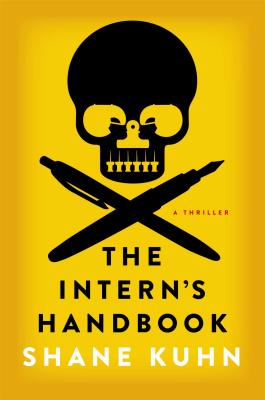 Staff Reviews
---
Beware the intern!  Instead of the corporate killer instinct, the nondescript young person with perfect coffee making skills may have the killer instinct of the corpse-making kind.  Twenty-five-year-old John Lago is just such an intern, and this is his last assignment before retiring.  Shadow John and absorb his years of knowledge in the assassination business by learing John's rules of engagement and his life story.  Help him uncover the correct executive - out of three potential victims - who is to be killed and along the way, discover whether or not you have what it takes to become an elite assassin.  This intriguing premise will not only appeal to readers who like covert operation and conflicted protagonits, but also to those who crave career options where perfection in coffee brewing is paramount.
— From
Adrean Darce Brent
April 2014 Indie Next List
---
"I have a twisted sense of humor and so does Shane Kuhn, the author of this darkly funny novel of office work and assassination - something like what you might get if Joshua Ferris and Josh Bazell ever collaborated. It's full of misdirection, red herrings, and characters so layered with secret identities and hidden agendas that even they may not know the truth. If you learn nothing else from this exciting, exhilarating debut, take this lesson to heart: If the intern offers to make you coffee, just say 'No, thank you.'"
— Billie Bloebaum, Powell's Books At PDX, Portland, OR
Description
---
Interns are invisible. That's the mantra behind HR, Inc., an elite "placement agency" that doubles as a network of assassins-for-hire, taking down high-profile executives who wouldn't be able to remember an intern's name if their lives depended on it. **INTERNATIONAL BESTSELLER**
Best of the Year--Seattle Times JOHN LAGO IS A HITMAN. HE HAS SOME RULES FOR YOU. AND HE' S ABOUT TO BREAK EVERY SINGLE ONE. John Lago is a very bad guy. But he's the very best at what he does. And what he does is infiltrate top-level companies and assassinate crooked executives while disguised as an intern. Interns are invisible. That's the secret behind HR, Inc., the elite "placement agency" that doubles as a network of assassins for hire who take down high-profile targets that wouldn't be able to remember an intern's name if their lives depended on it. At the ripe old age of almost twenty-five, John Lago is already New York City's most successful hit man. He's also an intern at a prestigious Manhattan law firm, clocking eighty hours a week getting coffee, answering phones, and doing all the grunt work actual employees are too lazy to do. He was hired to assas-sinate one of the firm's heavily guarded partners. His internship provides the perfect cover, enabling him to gather intel and gain access to pull off a clean, untraceable hit. Part confessional, part DIY manual, The Intern's Handbook chronicles John's final assignment, a twisted thrill ride in which he is pitted against the toughest--and sexiest--adversary he's ever faced: Alice, an FBI agent assigned to take down the same law partner he's been assigned to kill.
Praise For…
---
"The Intern's Handbook is Tarantino funny and as tense as a Mexican standoff.
Shane Kuhn has written a movie lover's thriller that's as entertaining as it is smart."
-Andrew Pyper, bestselling author of The Demonologist