Thanks for the Trouble (Hardcover)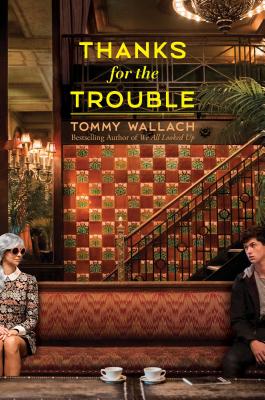 $17.99
Usually Ships in 1-5 Days
Staff Reviews
---
Tommy Wallach's debut novel We All Looked Up was one of my favorites of 2015. I couldn't wait to read his second and prayed he wouldn't have that "sophomore slump" that befalls some writers. It proved to be an unnecessary concern. Thanks for the Trouble is another insightful coming-of-age story featuring 17-year-old Parker Santé, a cynical high school senior who hasn't spoken since his dad's accident five years ago. He communicates with sign language and journal writing. When he meets an odd silver-haired girl, Zelda, he steals her wad of cash only to feel guilty and brings it right back. She promises to give him the money if he applies to college. Once all the money is gone, she'll leap off the Golden Gate Bridge but refuses to tell Parker why. What unfolds is much more than a madcap adventure of two teens bonding over troubled pasts. It's a poignant story interspersed with fairy tales and touches of magic that brings the reader to one question: is a full life better than a long one?
— From
Sarah Chen
Description
---
Tommy Wallach, the New York Times bestselling author of the "stunning debut" (Kirkus Reviews, starred review) We All Looked Up, delivers a brilliant new novel about a young man who overcomes a crippling loss and finds the courage to live after meeting an enigmatic girl. "Was this story written about me?"
I shrugged.
"Yes or no?"
I shrugged again, finally earning a little scowl, which somehow made the girl even more pretty.
"It's very rude not to answer simple questions," she said.
I gestured for my journal, but she still wouldn't give it to me. So I took out my pen and wrote on my palm.
I can't, I wrote. Then, in tiny letters below it: Now don't you feel like a jerk? Parker Sant hasn't spoken a word in five years. While his classmates plan for bright futures, he skips school to hang out in hotels, killing time by watching the guests. But when he meets a silver-haired girl named Zelda Toth, a girl who claims to be quite a bit older than she looks, he'll discover there just might be a few things left worth living for. From the celebrated author of We All Looked Up comes a unique story of first and last loves.