An Unkindness of Magicians (Hardcover)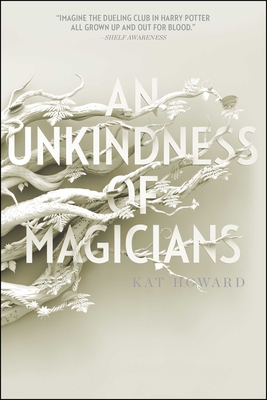 Staff Reviews
---
In An Unkindness of Magicians, Kat Howard imagines a war among the magical families of New York City, conducted by duels brilliant, gorgeous, and fatal, to decide which of the Houses will rule the rest. Breaking into this circle of genteel violence is Sydney, the novel's heroine, an outsider of extraordinary magical ability--and rage. For Sydney knows, bitterly and personally, the dreadful secret of the magical aristocrats' power. Follow Sydney as she pursues her vengeance and fights to free the magical world of corruption, in a tale that is exciting, imaginative, and dark. Magic has its price. Even Sydney must pay it. Highly recommended!
— From
David's Diamonds
A corrupt system of magic is shaken to its foundations when a young woman with tortured past enters the Duel for magical supremacy. Sydney's bent on vengeance with more than enough personal power to get it. She just never imagines the cost would cut so deep. Kat Howard's written a quick paced and enchanting tale of a people past due for a reckoning over the corruption at the heart of its magic use. The writing is crisp, engaging, and addictive. The characters fully formed with an intriguing mix of personality types and the story arcs are compelling. Sydney is an unapologetic, vicious, take no prisoners anti-hero. Through her eyes, this story swiftly builds to an unexpected climax that'll have you begging for more of this Unseen World. – Guest Reviewer Ro
— From
Spotlight on Guest Reviewers
Description
---
There is a dark secret that is hiding at the heart of New York City and diminishing the city's magicians' power in this fantasy thriller by acclaimed author Kat Howard. In New York City, magic controls everything. But the power of magic is fading. No one knows what is happening, except for Sydney--a new, rare magician with incredible power that has been unmatched in decades, and she may be the only person who is able to stop the darkness that is weakening the magic. But Sydney doesn't want to help the system, she wants to destroy it. Sydney comes from the House of Shadows, which controls the magic with the help of sacrifices from magicians.