Holly Farb and the Princess of the Galaxy (Hardcover)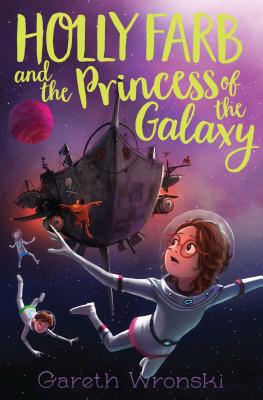 Staff Reviews
---
Kid Pick for June!
This book is 20% off the whole month of June!
DEAR FELLOW HUMANS: Do you like robots? Do you like adventures space? Do you like to laugh? Then this book is for you! Robot OS-78 narrates the story of an ordinary girl named Holly Farb who gets swept away in galactic adventure when a group of aliens mistake her for the Princess of the Galaxy. Featuring space pirates, bounty hunters, holograms, not to mention laugh out loud interjections from Robot OS-78 throughout! I had so much fun reading this book!
— From
Kelly's Kid Picks
Description
---
Guardians of the Galaxy meets Hitchhiker's Guide to the Galaxy in this laugh-out-loud funny debut novel about a girl's journey into space and beyond to find her place in the universe. Holly Farb is not the Princess of the Galaxy. She may be top of the class in every subject, but she can't even win a school election, never mind rule the Milky Way. The aliens who kidnapped her have gotten it all wrong. Unfortunately Holly's alien pirate kidnappers believe that she's the princess they've been looking for, and so she finds herself hurtling through space on an alien pirate ship together with her teacher, Mr. Mendez, and Chester, the most annoying boy in her class. Now all she has to do is escape the pirates, find the missing princess, and get back to Earth in time for her big test on Friday. But it turns out that space is a pretty big place, and before they can go home, Holly, Chester, and Mr. Mendez must face down space cruise liners, bounty hunters, giant worms, perky holograms, cosmic board games, sinister insectoid librarians, and a robot who is learning how to lie. Between running from space pirates, defying the President of the Universe, and meeting a host of rather unusual new friends, Holly starts to wonder if there might be more to life than being top of the class after all.