An Enchantment of Ravens (Hardcover)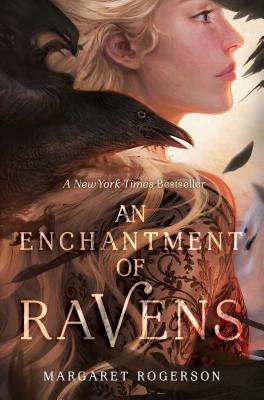 Staff Reviews
---
Margaret Rogerson's An Enchantment of Ravens is a lovely, remarkable exploration of the heart of magic. Isobel paints the Fair Folk's portraits, in exchange for useful spells and cantrips. When her portrait of Rook, the Autumn Prince, violates all taboos and discloses his secret human feelings of sorrow, Isobel is seized and taken to Fairie to answer for her crime. The novel artfully balances human qualities against fay ones: mortality and immortality, human craft and fairy magic, peasant life and fairy aristocracy. And though separated by all these aspects, Isobel and Rook are still drawn to each other, in an impossible love. This extraordinary book, on the level of Jonathan Strange & Mr Norrell or Lud-in-the-Mist, is the author's debut novel. True magic.
— From
David's Diamonds
"In the town of Whimsy humans sell their Craft, their artistic creations, to the otherworldly and darkly dangerous fair folk in exchange for magical enchantments. Isobel is a talented artist who paints portraits of the fair folk in exchange for practical protections. But when the Autumn Prince whisks her away to the faerie kingdom she enters a world far more perilous—and beautiful—than she's ever known. A perfect blend of Faerie danger and romance, and a book that swept me up in full enchantment. A gorgeous debut." -- Kelly
— From
New Books On Sale Tuesday, September 26
Description
---
An instant New York Times bestseller
An Indie Next Top 10 Pick
A Parents' Choice Silver Honor Winner "A funny, action-packed, and sweet romance." --School Library Journal (starred review)
"A phenomenal read." --RT Book Reviews A skilled painter must stand up to the ancient power of the faerie courts--even as she falls in love with a faerie prince--in this gorgeous bestseller that's "an ideal pick for fans of Holly Black, Maggie Stiefvater, and Laini Taylor" (Publishers Weekly, starred review). Isobel is an artistic prodigy with a dangerous set of clients: the sinister fair folk, immortal creatures who cannot bake bread or put a pen to paper without crumbling to dust. They crave human Craft with a terrible thirst, and Isobel's paintings are highly prized. But when she receives her first royal patron--Rook, the autumn prince--she makes a terrible mistake. She paints mortal sorrow in his eyes--a weakness that could cost him his life. Furious, Rook spirits her away to his kingdom to stand trial for her crime. But something is seriously wrong in his world, and they are attacked from every side. With Isobel and Rook depending on each other for survival, their alliance blossoms into trust, then love--and that love violates the fair folks' ruthless laws. Now both of their lives are forfeit, unless Isobel can use her skill as an artist to fight the fairy courts. Because secretly, her Craft represents a threat the fair folk have never faced in all the millennia of their unchanging lives: for the first time, her portraits have the power to make them feel.