The Chaos of Standing Still (Hardcover)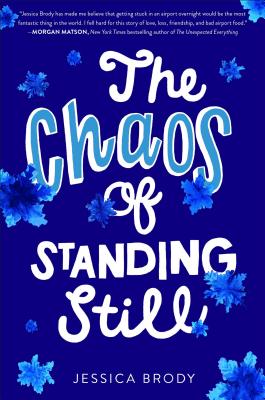 Staff Reviews
---
On the eve of the one-year anniversary of her best friend Lottie's death, 18-year-old Ryn has even less desire than most travelers to spend one long day and night snowed in at the Denver airport. However, a chance encounter with a stranger with the same cell phone and case is the first in a series of events that draw Ryn out of her protective self-imposed emotional and artistic stasis. Lottie sent Ryn a text message right before her death; to Ryn's magical thinking process, as long as it remains unread, there's still a part of Lottie alive in her world. Charming, immediately emotional, and filled with wry observations about life, death, and the universe's tendency towards chaos, this is a rewarding read.
— From
Nifty Novels and More from Maryelizabeth
Description
---
"Jessica Brody has made me believe that getting stuck in an airport overnight would be the most fantastic thing in the world. I fell hard for this story of love, loss, friendship, and bad airport food. I loved it " --Morgan Matson, New York Times bestselling author of The Unexpected Everything Over the course of one chaotic night stranded at the Denver airport, Ryn confronts her shattered past thanks to the charm of romance, the uniqueness of strangers, and the magic of ordinary places in this stunning novel from the author of Boys of Summer. Ryn has one unread text message on her phone. And it's been there for almost a year. She hasn't tried to read it. She can't. She won't. Because that one message is the last thing her best friend ever said to her before she died. But as Ryn finds herself trapped in the Denver International Airport on New Year's Eve thanks to a never-ending blizzard on the one-year anniversary of her best friend's death, fate literally runs into her. And his name is Xander. When the two accidentally swap phones, Ryn and Xander are thrust into the chaos of an unforgettable all-night adventure, filled with charming and mysterious strangers, a secret New Year's Eve bash, and a possible Illuminati conspiracy hidden within the Denver airport. But as the bizarre night continues, all Ryn can think about is that one unread text message. It follows her wherever she goes, because Ryn can't get her brialliantly wild and free-spirited best friend out of her head. Ryn can't move on. But tonight, for the first time ever, she's trying. And maybe that's a start. As moving as it is funny, The Chaos of Standing Still is a heartwarming story about the earth-shattering challenges life throws at us--and the unexpected strangers who help us along the way.