Shadow and Bone (Grisha Trilogy #1) (MP3 CD)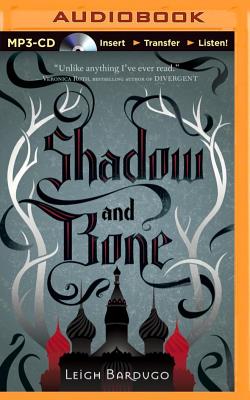 $10.99
Usually Ships in 1-5 Days
Staff Reviews
---
Young Adult
We predict "Tsarpunk" will become all the rage after readers get a taste of Leigh's Grisha trilogy, based in Russian and Slavic myth. Junior cartographer's assistant Alina Starkov's regiment's first encounter with the Shadow Fold that divides her country, Ravka, has mortal consequences for most of her companions. But Alina's heretofore unknown power to summon light to banish the flesh-devouring monsters that dwell in the Shadow Fold brings her the unanticipated honor of being trained as a member of the elite Grisha, and the attention of the nation's most prominent "master of the small sciences," the Darkling. Lush, romantic, and filled with the small conflicts of coming of age against the larger conflicts of a nation in turmoil. Highly recommended.
– Maryelizabeth
Summer 2012 Kids' Next List
---
"This debut fantasy riffs on Russian history and folklore. The orphan, Alina, doesn't know that she controls powers beyond her mapmaker trade and is thrust into royalty and the Darkling's inner circle, the magical, elite Grishas. With vivid characters, exciting and twisty plots, monsters, romance, and a fully developed otherworld, this is a high fantasy thriller of the first order. I look forward to more from this talented author!"
— Maureen Palacios, Once Upon a Time, Montrose, CA
Description
---
Alina Starkov doesn't expect much from life. Orphaned by the Border Wars, the one thing she could rely on was her best friend and fellow refugee, Mal. And lately not even that seems certain. Drafted into the army of their war-torn homeland, they're sent on a dangerous mission into the Fold, a swath of unnatural darkness crawling with monsters who feast on human flesh.
When their convoy is attacked, all seems lost until Alina reveals a dormant power that not even she knew existed. Ripped from everything she knows, she is whisked away to the royal court to be trained as a member of the Grisha, the magical elite led by the mysterious Darkling. He believes she is the answer the people have been waiting for: the one person with the power to destroy the Fold.
Swept up in a world of luxury and illusion, envied as the Darkling's favorite, Alina struggles to fit into her new life without Mal by her side. But as the threat to the kingdom mounts, Alina uncovers a secret that sets her on a collision course with the most powerful forces in the kingdom. Now only her past can save her...and only she can save the future.