As You Wish (Hardcover)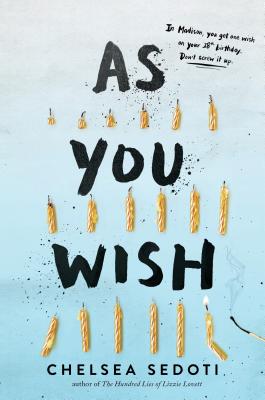 $17.99
Usually Ships in 1-5 Days
Staff Reviews
---
"Be careful what you wish for" takes on new meaning in this thoughtful YA debut. In the middle of the Mojave Desert, the town of Madison, Nevada has a secret. This is a secret they guard with great fervor and intent, as they know what will happen if this secret is discovered: Every citizen in Madison gets to make a wish on their eighteenth birthday, a wish that always comes true.
But, as we all know, wishes have consequences, and Eldon Wilkes has seen the results of these unintended consequences throughout his town and in his own family. With his birthday on the horizon, he is deeply conflicted. His parents are pressuring him to wish for money, which they believe will solve many of their problems. Eldon doesn't necessarily believe that that this is the right wish for him, and he believes that wishing is the root of many of their problems. As the countdown to his birthday reduces the amount of time he has to figure this out, Eldon's coming of age journey takes him to some unexpected places … all the way to a satisfying conclusion … at least for some.
— From
Terry's Traffic Light Delights
Description
---
If you could make one wish that was guaranteed to come true--what would you wish for?
Rules for Wishing:
Never let an outsider find out about wishing. (Zip your lips and throw away the key.)
Wishes that would impact the world are off limits (i.e. no bringing back the dinosaurs).
Do no harm. (Murder = no bueno.)
No time travel. (What's done is done, pal.)
No bringing back the dead. (Come on. You've seen what happens in THE WALKING DEAD.)
NEVER BREAK THE RULES. (Seriously. We mean it. See Rule #7.)
There are always consequences.
Madison is a small town in the Mojave desert on the road between nothing and nowhere. It's an unremarkable speck on the map, which is perfect for protecting the town's secret. Because in Madison, everyone can make one wish on their eighteenth birthday-and that wish always comes true.
Most of Eldon's classmates have had their wishes picked out for months, even years. Not Eldon. He's seen how wishing has hurt the people around him. His parents' marriage is strained, his sister is a virtual ghost in their house, his ex-girlfriend is dating his ex-friend...where does he even begin?
One thing is for sure: Eldon has only twenty-five days to figure it out--and the rest of his life to live with the consequences.