The Impossible Fortress (Hardcover)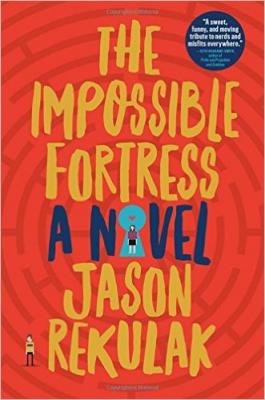 $24.00
Usually Ships in 1-5 Days
Staff Reviews
---
Near the end of the 1987 school year, 14-year-old Billy Marvin, and his two best friends, Alf and Clark, are obsessed with Vanna White. This obsession drives these three boys to concoct a scheme to obtain copies of the recent edition of Playboy with her pictures in it and make a small business out of reproducing the content. The results are hilarious and a blast to the past.
Billy lives with his single mother in an old, rundown house in Wetbridge, New Jersey, where his other passion is coding with the latest computer (a Commodore 64) to create a winning entry in a computer game contest. In the midst of trying to create the game of his dreams, where the hero rescues a damsel from an impossible fortress guarded by a mountain filled with ogres, along comes Mary Zelinsky, the smartest girl in town, who also loves coding and is very good at it.
Laugh along in a stream of nostalgia, wonder if the hero will rescue the girl, the boys will get their magazine, and what the future holds for Billy and Mary. For all ages.
— From
Terry's Traffic Light Delights
February 2017 Indie Next List
---
"You don't have to remember the 1980s to deeply 'get' this sweet memory trip back to the decade when video games, personal computers, and mixtapes were new. But if you did come of age in the 1980s, look out. All those awkward boy/girl moments, all those songs that comprised the soundtracks of your make-out sessions and your break-ups, all the wonder of your first encounters with MS-DOS buried deep in a far corner of your memory... Jason Rekulak will bring it all back to you."
— Carol Spurling (E), Bookpeople Of Moscow, Moscow, ID
Description
---
*MOST ANTICIPATED NOVELS OF 2017 SELECTION BY * ENTERTAINMENT WEEKLY * BUSTLE * "A sweet, funny, and moving tribute to nerds and misfits everywhere." --Seth Grahame-Smith, New York Times bestselling author of Pride and Prejudice and Zombies Until May 1987, fourteen-year-old Billy Marvin of Wetbridge, New Jersey, is a nerd, but a decidedly happy nerd. Afternoons are spent with his buddies, watching copious amounts of television, gorging on Pop-Tarts, debating who would win in a brawl (Rocky Balboa or Freddy Krueger? Bruce Springsteen or Billy Joel? Magnum P.I. Or T.J. Hooker?), and programming video games on his Commodore 64 late into the night. Then Playboy magazine publishes photos of Wheel of Fortune hostess Vanna White, Billy meets expert programmer Mary Zelinsky, and everything changes. A love letter to the 1980s, to the dawn of the computer age, and to adolescence--a time when anything feels possible--The Impossible Fortress will make you laugh, make you cry, and make you remember in exquisite detail what it feels like to love something--or someone--for the very first time.