Bonfire: A Novel (Hardcover)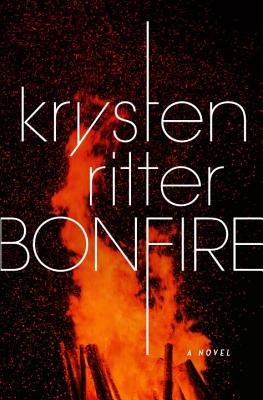 $26.00
Usually Ships in 1-5 Days
Staff Reviews
---
From actress (Jessica Jones), producer, writer, Ritter comes an engaging debut that combines a tortured past with a compelling mystery about a small town that is embroiled in a possible corruption scandal brought about by the company that sustains the community. Going home again is never easy, but it is particularly painful for Abby Williams, who left the small town of Barrens, Indiana 10 years ago to escape her school peers who hated her and pursue a life outside of the rural nightmare of her youth. Part Erin Brockovich, part Mean Girls, Abby Williams is back in Barrens in her role as an environmental lawyer and is only minutes into her return when she begins running into the people who make up her tortured history. Though she is in Barrens to investigate the role of Optimal Plastics in the reported health issues in Barrens, she also begins to uncover the circumstances that lead to the sudden departure of one of her childhood friends over 10 years ago. And then things get complicated. It turns out that this visit is more than just work to Abby; it is really a trip to her past to see if she can free herself from the damage inflicted on her when she lived there.
— From
Sarah Chen
November 2017 Indie Next List
---
"In this fast-paced thriller, successful environmental lawyer Abby Williams is brought back to her small Indiana town for work, where Optimal Plastics, a company that has helped rebuild the town and its economy, is under suspicion for water pollution. While investigating the pollution claims, Abby also becomes obsessed with discovering what happened to a classmate who disappeared 10 years earlier after a scandal that left many unanswered questions - a disappearance that has haunted her for years. In both cases, the search for truth leads Abby down a dark path of corruption and secrets. This is a remarkable debut novel and the must-read thriller of this fall."
— Rebecca Olson (W), Saturn Booksellers, Gaylord, MI
Description
---
"A phenomenal, haunting debut." 
—GILLIAN FLYNN, bestselling author of Gone Girl

"I burned through Krysten Ritter's hugely accomplished debut. Bonfire is dark, disturbing, and compulsively readable."
—RUTH WARE, bestselling author of In a Dark, Dark Wood and The Woman in Cabin 10
 
Nothing burns as bright as the truth.

It has been ten years since Abby Williams left home and scrubbed away all visible evidence of her small-town roots. Now working as an environmental lawyer in Chicago, she has a thriving career, a modern apartment, and her pick of meaningless one-night stands.

But when a new case takes her back home to Barrens, Indiana, the life Abby painstakingly created begins to crack. Tasked with investigating Optimal Plastics, the town's most high-profile company and economic heart, Abby begins to find strange connections to Barrens's biggest scandal from more than a decade ago, involving the popular Kaycee Mitchell and her closest friends—just before Kaycee disappeared for good.

Abby knows the key to solving any case lies in the weak spots, the unanswered questions. But as she tries desperately to find out what really happened to Kaycee, troubling memories begin to resurface and she begins to doubt her own observations. And when she unearths an even more disturbing secret—a ritual called "The Game"—it will threaten reputations, and lives, in the community and risk exposing a darkness that may consume her.

With tantalizing twists, slow-burning suspense, and a remote rural town of just five claustrophobic square miles, Bonfire is a dark exploration of what happens when your past and present collide.

About the Author
---
KRYSTEN RITTER is well-known for her starring roles in the award-winning Netflix original series Marvel's Jessica Jones and cult favorite Don't Trust the B---- in Apartment 23, as well as her pivotal role on AMC's Breaking Bad. Ritter's work on film includes Big Eyes, Listen Up Philip, Life Happens, Confessions of a Shopaholic, and She's Out of My League. She is the founder of Silent Machine, a production company that aims to highlight complex female protagonists. Ritter and her dog, Mikey, split their time between New York and Los Angeles.
Praise For…
---
"The Jessica Jones star makes an auspicious literary debut with Bonfire, spinning a suspenseful, psychologically gripping story."
—ENTERTAINMENT WEEKLY

"Krysten Ritter made a name for herself by portraying some of the fiercest female characters in pop culture history. It should come as no surprise, then, that her debut novel carries that same level of strength and complexity on every single page… As Abby confronts her demons one by one, it becomes clear that she's one hell of a complicated lady — and a protagonist that's so damn appealing that it's hard not to read the whole book in one sitting… Brilliant."
—POPSUGAR

"In this adroit debut the star of Marvel's Jessica Jones proves her talents aren't limited to acting... [Bonfire is] a thriller that delivers suspense, surprise and satisfaction."
—PEOPLE

"[Ritter brings an] unconventional, edgy approach to her engrossing suspense novel, Bonfire. Deliciously moody with a noirish undertone, Bonfire ignites a first-rate mystery resplendent with shadowy scenery, a tight plot and a lead character that is both fragile and strong… The melding of corporate corruption and the personal pollution that Abby endures elevates Bonfire, which blazes uncompromising storytelling and a believable, and shocking, finale. The exciting Bonfire shows that not only can you go home again, sometimes you must – to escape it and reconcile the past."
—ASSOCIATED PRESS

"An expertly plotted page-turner."
—MARIE CLAIRE

"Ritter has written a taut narrative that hinges around a satisfyingly lurid mystery. More than that, though, Ritter has given readers the kind of unforgettable narrator, full of quirks and bad habits and emotions, who is relatable in the best possible ways."
—NYLON

"Bonfire is a stone-cold stunner—the writing is dazzling, the suspense is creeping, and the story of a woman returning home to face her past is brimming with emotion and truth. An extraordinary debut from a major talent."
—BLAKE CROUCH, New York Times bestselling author of Dark Matter

"A vicious years-old small-town scandal makes the perfect backdrop for this gritty, moody mystery that will have readers ripping through the pages at top speed. Bonfire ushers in a bold new voice to the suspense genre. I can't wait to see what Ritter dreams up next."
—MARY KUBICA, New York Times bestselling author of The Good Girl

"Actress Ritter (Marvel's Jessica Jones) makes a triumphant fiction debut with this pulse-pounding thriller featuring a sympathetic, broken lead character... Pitch-perfect."
—PUBLISHERS WEEKLY (starred)

"Ritter, lead actress on television's Jessica Jones, is likely to attract readers with her name, but this strong, gritty debut is good enough to create its own fan following."
—BOOKLIST

"[Bonfire is] a fast-paced thriller that… introduces a tough female lead who's easy to root for."
—KIRKUS REVIEWS

Coverage from NPR