Flex (Mancer #1) (MP3 CD)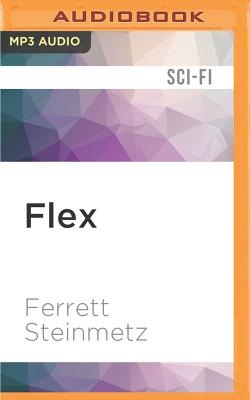 Description
---
A desperate father embraces forbidden magic, drawing from his obsession with bureaucracy in order to save the life of his injured daughter.
FLEX. Distilled magic in crystal form. The most dangerous drug in the world. Snort it, and you can create incredible coincidences to live the life of your dreams.
FLUX: The backlash from snorting Flex. The universe hates magic and tries to rebalance the odds; maybe you survive the horrendous accidents the Flex inflicts, maybe you don't.
PAUL TSABO: The obsessed bureaucromancer who's turned paperwork into a magical beast that can rewrite rental agreements, conjure rented cars from nowhere, and track down anyone who's ever filled out a form. But when all of his formulaic magic can't save his burned daughter, Paul must enter the dangerous world of Flex dealers to heal her. Except he's never done this before - and the punishment for brewing Flex is army conscription and a total brain wipe.
Ferrett Steinmetz is a graduate of both the Clarion Writers' Workshop and Viable Paradise and has been nominated for the Nebula Award, for which he remains stoked. Ferrett has a moderately popular blog, The Watchtower of Destruction, wherein he talks about bad puns, relationships, politics, videogames, and more bad puns. He is a noted online personality whose letter to his daughter, 'I Hope You Have Awesome Sex', went viral.
He's written four computer books, including the still-popular-after-two-years Wicked Cool PHP. He lives in Cleveland with his wife, who he couldn't imagine living without.