Scythe (Arc of a Scythe #1) (Compact Disc)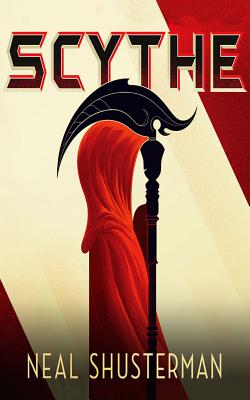 $19.99
Usually Ships in 1-5 Days
Staff Reviews
---
A gripping new novel by Neal Shusterman where there is no sickness, no injury, no war that can kill humans. In this perfect world there is only one way to die: at the hands of those called Scythes, revered killers who keep the population under control. Even though killing is the last thing young and empathetic Citra and Rowan want to do, both are chosen to become apprentices to a Scythe and master the art of taking lives. As the story unfolds, so does a captivating plight of two teenagers trying to both keep and understand their own humanity in a sea of red. A perfect read for dystopian lovers who want something fresh to add to their bookshelf—I couldn't put this one down once I started!
— Kelly
This book saved my love of reading. I truly thought that I had lost that joy, but this book showed me that it wasn't lost, simply misplaced. Scythe sunk its teeth into me and didn't let go. I couldn't read this book fast enough. In this novel the world has conquered death, sickness, war. The Thunderhead in the sky has solved it all. It is now a world where no one dies, ever. You don't even die of old age, you can simply turn back the clock and look younger. There is only one way to die in this new world, and that is at the hands of a Scythe. Two teens are thrown into the ring as apprentices, but neither Citra nor Rowan want the job. Neal Shusterman created a world, that despite all of its craziness, all of the things it made me question about myself and the world around me, I find myself wanting to be apart of. I wanted to sit in on the Conclaves, join Scythe Faraday for a while to learn from him and hear his wisdom, I wanted to sit and talk with Citra and Rowan to see what they learned, and even want a moment to talk with the Thunderhead.
— Victoria
Description
---
Two teens must learn the "art of killing" in this Printz Honor-winning book, the first in a chilling new series from Neal Shusterman, author of the New York Times best-selling Unwind Dystology series.
A world with no hunger, no disease, no war, no misery: Humanity has conquered all those things and has even conquered death. Now Scythes are the only ones who can end life - and they are commanded to do so in order to keep the size of the population under control.
Citra and Rowan are chosen to apprentice to a scythe - a role that neither wants. These teens must master the "art" of taking life, knowing that the consequence of failure could mean losing their own.
Scythe is the first novel of a thrilling new series by National Book Award-winning author Neal Shusterman in which Citra and Rowan learn that a perfect world comes only with a heavy price.