Artemis (Compact Disc)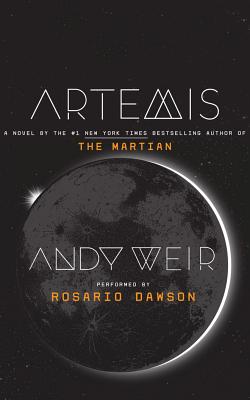 The author of The Martian sets his sights on a decidedly different celestial orb, the Moon, and its first city, Artemis. Meet Jazz Bashara, small time porter and even smaller time smuggler. She's been here on the Moon since she was, like, six and life here sure is no picnic, what with the nearest fresh air being 400,000 kilometers away, and everything here being so god-awful expensive. She's on track to earn a cool million slugs though. Only thing is that job isn't what you'd call strictly legal. But when you're living in a coffin and you've got bills and debts to pay, you gotta do what you gotta do. The Moon's not only a harsh mistress, she can be a downright bitch.
Artemis has many of the elements you loved in The Martian: cool tech, sciencing the shit out of things to keep from dying, and one hell of a protagonist. Our Jazz is just as brilliant, clever, and irreverent as The Martian's Mark Watney. She's just a bit looser with her morals is all. And like our favorite Martian, Watney, she's in way over her head and in danger of sucking serious vacuum. Unlike Watney, however, Jazz doesn't have an entire planet rallying to save her ass from certain death. She's gonna have to do that little thing on her own (mostly). All of the awesomeness you'd expect from Weir in a book you may just read in one sitting. 
— Guest Reviewer Patrick Heffernan
November 2017 Indie Next List
---
"Jazz is a porter on Artemis, the only city on the moon, and her job is supplemented by smuggling minor contraband into the city. When she gets involved in a bigger game with a much bigger payout, she is not ready for the lengths to which others will go to get their own payday. Amidst murder, corporate sabotage, and the Brazilian mafia, the moon's crisis brings Jazz to a new perspective: She must be a better person than she has ever been if she and Artemis' society are to survive. Weir has created a great, sarcastic character who will be loved by fans the world over, and a cool and engaging book that is a worthy successor to The Martian."
— Raul Chapa, Book People, Austin, TX
Description
---
The bestselling author of The Martian returns with an irresistible new near-future thriller--a heist story set on the moon.
Jazz Bashara is a criminal.
Well, sort of. Life on Artemis, the first and only city on the moon, is tough if you're not a rich tourist or an eccentric billionaire. So smuggling in the occasional harmless bit of contraband barely counts, right? Not when you've got debts to pay and your job as a porter barely covers the rent.
Everything changes when Jazz sees the chance to commit the perfect crime, with a reward too lucrative to turn down. But pulling off the impossible is just the start of her problems, as she learns that she's stepped square into a conspiracy for control of Artemis itself--and that now her only chance at survival lies in a gambit even riskier than the first.