When Josie Comes Home (Paperback)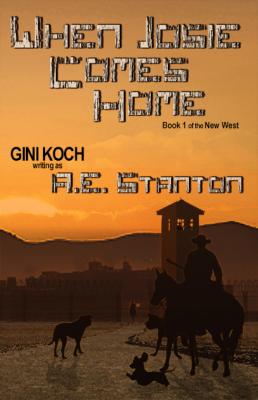 Description
---
The future's a lot like the past -- the West's still hard on women and horses.

The future's a wonderful place to be if you were considered worthy -- until a huge solar flare slagged the world computers. Now, over two hundred years later, the unworthies are all that's left of humanity, and they've reverted back to the old, old ways.
About the Author
---
A.E. Stanton likes horses and motorcycles, the past, and the far future. A.E. also likes to act like a crotchety curmudgeon but can rarely pull it off for long because it must be admitted that fast cars, dentistry, penicillin, indoor plumbing, and central heat and air make life in the here and now pretty darned nice. A.E. writes stories set in the Old West, in the post-apocalyptic future, and any combo therein. When Josie Comes Home, first in The New West series, is available now, with the second and third installments, Deacon's Ark and The Deacon of Desert Springs, coming soon. The first in The Legend of Belladonna series, Natural Born Outlaws, will be coming out in audiobook from Graphic Audio in summer 2017. When not riding or writing, A.E. (also known as Gini Koch) spends time thinking about writing or riding. Reach A.E. at Old Westerner (http://www.ginikoch.com/asbookstore.htm).