Jonathan Strange and MR Norrell (Paperback)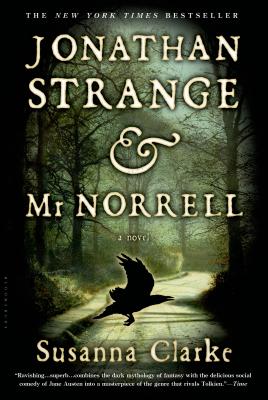 Staff Reviews
---
This is one of the finest fantasy books I've ever read. In fact, with its dark, classical magic, rich history, and elegant writing, Jonathan Strange and Mr. Norrell is one of the best novels I've read hands down. Don't let the length deter you--by the time you get to the last page, you'll be aching for more.
--Kelly
— From
Kelly
Description
---
Time magazine's #1 book of the year - 11 weeks and counting on the New York Times bestseller list - Shortlisted for the Guardian First Book Award - Longlisted for the Booker prize - A Book Sense pick - People Top Ten Books of the year - Salon.com Top Ten of 2004 - New York Times Notable Books of the Year - Christian Science Monitor Best Fiction 2004 - Nancy Pearl's Top 12 Books of 2004 - Washington Post Book World Best of 2004 - San Francisco Chronicle Best Books of 2004 - Chicago Tribune Best of 2004 - Seattle Times 25 Best Books of 2004 - Atlanta Journal-Constitution Top 12 Books of 2004 - Village Voice "Top Shelf" - Raleigh News & Observer Best of 2004 - Rocky Mountain News critics' favorites of 2004 - Kansas City Star 100 Noteworthy Books of 2004 - Fort Worth Star-Telegram 10 Best Books of 2004 - Hartford Courant Best Books of 2004 - A New York Public Library Book to Remember from 2004 - 2005 The Book Sense Book of the Year winner (Adult Fiction) - A PSLA Young Adult Top 40 fiction title 2004
Susanna Clarke's brilliant first novel is an utterly compelling epic tale of nineteenth-century England and the two very different magicians who, as teacher and pupil and then as rivals, emerge to change its history. Sold in 21 languages, with a major motion picture from New Line on the way, Jonathan Strange & Mr Norrell is a tour de force that has captured the imagination of readers worldwide.
About the Author
---
Susanna Clarke was born in Nottingham, England, in 1959, the eldest daughter of a Methodist minister. She was educated at St Hilda's College, Oxford, and has worked in various areas of nonfiction publishing. She has published a number of short stories and novellas in American anthologies, including "Mr Simonelli, or the Fairy Widower," which was shortlisted for a World Fantasy Award in 2001. Susanna lives in Cambridge with her partner, the novelist and reviewer Colin Greenland.
Praise For…
---
"Ravishing…superb…combines the dark mythology of fantasy with the delicious social comedy of Jane Austen into a masterpiece of the genre that rivals Tolkien."



"Clarke welcomes herself into an exalted company of British writers--not only, some might argue, Dickens and Austen, but also the fantasy legends Kenneth Grahame and George MacDonald--as well as contemporary writers like Susan Cooper and Philip Pullman."



"What kind of magic can make an 800-page novel seem too short? Whatever it is, debut author Susanna Clarke is possessed by it, and her astonished readers will surely hope she never recovers."



"The most sparkling literary debut of the year…Susanna Clarke's magic is universal."



"Combining folklore and fantasy with horror-story imagination, [Clarke] creates a Napoleonic-era England alive with the promise--and danger--of uncontrollable forces…Clarke's sober style keeps the fantasy grounded, and meticulous historical research brings the magical episodes to terrifying life. This is a gorgeous book of unforgettable images."



"Thoroughly enchanting…In a fantastically paced conclusion, the ominous horror of what's preying on England comes into focus, even as the setting shifts into the cloudy world of enchantment that Clarke captures with such haunting effect."



"Many books are to be read, some are to be studied, and a few are meant to be lived in for weeks. Jonathan Strange & Mr Norrell is of this last kind...Magnificent and original."



"Susanna Clarke's great fat tale of the rebirth of magic in 19th-century England has a rambling ground plan, a decorous diction, and a politely crazed investment in ornate cornices. Here is a writer who remembers that true fairy tales carry a sting and the creatures themselves were never properly domesticated to the nursery. Her uncanny book is an object lesson in the pleasures--and risks--of enchantment."



"An instant classic, one of the finest fantasies ever written."



"Extraordinary…Will enchant readers of fantasy and literary fiction alike."



"Absolutely compelling. An astonishing achievement."

-Charles Palliser, author of The Quincunx


"Unquestionably the finest English novel of the fantastic written in the last seventy years. It's funny, moving, scary, otherworldly, practical and magical, a journey through light and shadow--from beginning to end, a perfect pleasure."

-Neil Gaiman, author of the Sandman series and American Gods