Jonathan Strange & Mr Norrell: A Novel (Paperback)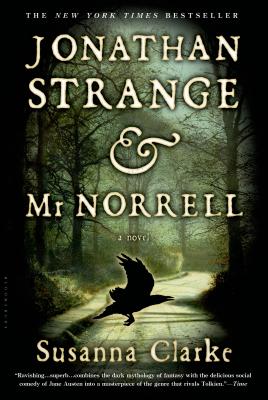 $18.00
Usually Ships in 1-5 Days
Staff Reviews
---
This is one of the finest fantasy books I've ever read. In fact, with its dark, classical magic, rich history, and elegant writing, Jonathan Strange and Mr. Norrell is one of the best novels I've read hands down. Don't let the length deter you--by the time you get to the last page, you'll be aching for more.
--Kelly
— From
Kelly
Description
---
In the Hugo-award winning, epic New York Times Bestseller and basis for the BBC miniseries, two men change England's history when they bring magic back into the world.
In the midst of the Napoleonic Wars in 1806, most people believe magic to have long since disappeared from England - until the reclusive Mr. Norrell reveals his powers and becomes an overnight celebrity.
Yet the cautious, fussy Norrell is challenged by the emergence of another magician, the brilliant novice Jonathan Strange. Young, handsome, and daring, Strange is the very opposite of Norrell. He becomes Norrell's student, and they join forces in the war against France. But Strange is increasingly drawn to the wildest, most perilous forms of magic, straining his partnership with Norrell, and putting at risk everything else he holds dear.
Susanna Clarke's brilliant first novel is an utterly compelling epic tale of nineteenth-century England and the two magicians who, first as teacher and pupil and then as rivals, emerge to change its history.
About the Author
---
Susanna Clarke was born in Nottingham, England, in 1959, the eldest daughter of a Methodist minister. She was educated at St Hilda's College, Oxford, and has worked in various areas of nonfiction publishing. She has published a number of short stories and novellas in American anthologies, as well as her own most recent collection of short stories entitled "The Ladies of Grace Adieu, and Other Stories."
Praise For…
---
"This novel took 10 years to research and write, according to publicity material; for readers at least, the author's arduous task results in a smashing success--it's an exceptionally compelling, brilliantly creative, and historically fine-tuned piece of work. The brilliance of the novel lies in how Clarke so completely and believably creates a world within a world..." - Booklist, starred review
"Clarke's imagination is prodigious, her pacing is masterly and she knows how to employ dry humor in the service of majesty." - The New York Times
"The most sparkling literary debut of the year." - Salon
"An instant classic, one of the finest fantasies ever written." - Kirkus Reviews, starred review