The Library of Fates (Hardcover)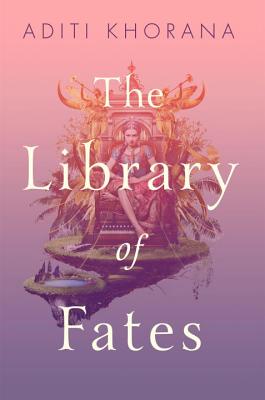 Staff Reviews
---
"The Library of Fates is a well-crafted story that surrounds you with its vivid descriptions while maintaining a quick pace that never makes you feel bogged down or bored. The story follows princess Amrita who lives in a flourishing country called Shalingar. She has been betrothed to a harsh and conquering ruler to save her kingdom and the rest of the story unfolds from there. Though this may sound like an action-packed tale, its main focus is on the character's self-actualization as she struggles to try and save her kingdom at any cost.
I can happily say this book was a breath of fresh air for me and doesn't compare plot wise to anything I have recently read. While a quick read and enjoyable, it had depth to it in areas I was not expecting. It left me in a very calm, zen like mood as I turned the last page with a smile on my face."
Description
---
A romantic coming-of-age fantasy tale steeped in Indian folklore, perfect for fans of The Star-Touched Queen and The Wrath and the Dawn

"Aditi Khorana has whipped up the perfect book recipe: a rogue princess, a freed oracle, and a library with the power to change your fate!" —Justine Magazine

No one is entirely certain what brings the Emperor Sikander to Shalingar. Until now, the idyllic kingdom has been immune to his many violent conquests. To keep the visit friendly, Princess Amrita has offered herself as his bride, sacrificing everything—family, her childhood love, and her freedom—to save her people. But her offer isn't enough.

The palace is soon under siege, and Amrita finds herself a fugitive, utterly alone but for an oracle named Thala, who was kept by Sikander as a slave and managed to escape amid the chaos. With nothing and no one else to turn to, Amrita and Thala are forced to rely on one another. But while Amrita feels responsible for her kingdom and sets out to warn her people, the newly free Thala has no such ties. She encourages Amrita to go on a quest to find the fabled Library of All Things, where it is possible for each of them to reverse their fates. To go back to before Sikander took everything from them. 

Stripped of all that she loves, caught between her rosy past and an unknown future, will Amrita be able to restore what was lost, or does another life—and another love—await?
About the Author
---
Aditi Khorana spent parts of her childhood in India, Denmark, and New England. She has a BA in international relations from Brown University and an MA in global media and communications from the Annenberg School for Communication. She has worked as a journalist at ABC News, CNN, and PBS, and most recently as a marketing executive consulting for various Hollywood studios including Fox, Paramount, and Sony. She is also the author of Mirror in the Sky. She lives in Los Angeles and spends her free time reading, hiking, and exploring LA's eclectic and wonderful architecture. For more information, visit aditikhorana.com.
Praise For…
---
Praise for The Library of Fates:

"Khorana creates a beautiful and fantastical version of our world where gods and spirits walk among mortals. The fables repeated throughout foretell Amrita's journey, seamlessly interweaving her past and future and mirroring a thought-provoking narrative that touches on weighty philosophical questions."
—Publishers Weekly

"[R]ich, beautiful worldbuilding and thought-provoking questions on the power of experience, stories, and fate..."
—Kirkus Reviews

"Khorana has created a lush, magical world inspired by Indian mythology. ... [A] wholly compelling story."
—Booklist

"Engrossing."
—School Library Connection

"An incredible coming-of-age fantasy."
—BitchMedia

"Khorana's dazzling second book features a sweeping quest, sumptuous romance and complex heroines. This is the kind of book that lingers in your dreams."
—Roshani Chokshi, New York Times bestselling author of The Star-Touched Queen

"The Library of Fates transported me to a magical kingdom where troubled oracles, irreverent goddesses, and megalomaniacal kings battle for control of love and fate. With a rich, real mythology and a stunning twist, it's basically everything I ever wanted in a book."
—Heidi Heilig, author of The Girl from Everywhere

"I was swept away by this unique, tantalizing tale. The Library of Fates spins a spell that breaks the heart and utterly enchants. An essential addition to any library—magical or not."
—Jessica Khoury, author of the Corpus Trilogy and The Forbidden Wish