Because You'll Never Meet Me (Hardcover)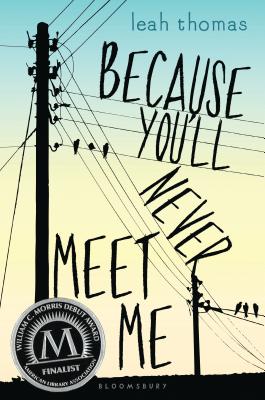 $17.99
Usually Ships in 1-5 Days
Staff Reviews
---
This is one of the most unique books I've ever read—in a good way. The entire story is a series of letters written by Ollie and Moritz, two teenage boys who are both isolated from society yet different in every other regard. Ollie, a carefree boy who wears his heart on his sleeve, is allergic to electricity and must live out in the boondocks of rural Michigan. Moritz, a blunt German who doesn't mince words, has no eyes and a weak heart. He has a pacemaker which means that he and Ollie will never meet because remember, Ollie is allergic to electricity. Moritz can "see" by clicking his tongue, a practice called echolocation. What's so beautiful about this borderline science fiction story is how these two journey from total strangers to lifelong friends. Thomas's YA debut of friendship and destiny is stunning and unforgettable.
— From
Sarah Chen
Description
---
A William C. Morris YA Debut Award finalist
A Carnegie Award nominee
Ollie and Moritz are best friends, but they can never meet. Ollie has a life-threatening allergy to electricity, and Moritz's weak heart requires a pacemaker. If they ever did meet, they could both die. Living as recluses from society, the boys develop a fierce bond through letters that become a lifeline during dark times--as Ollie loses his only friend, Liz, to the normalcy of high school and Moritz deals with a bully set on destroying him. But when Moritz reveals the key to their shared, sinister past that began years ago in a mysterious German laboratory, their friendship faces a test neither one of them expected.
Narrated in letter form by Ollie and Moritz--two extraordinary new voices--this story of impossible friendship and hope under strange circumstances blends elements of science fiction with coming of age themes, in a humorous, dark, and ultimately inspiring tale is completely unforgettable.
About the Author
---
Leah Thomas frequently loses battles of wits against her students and her stories. When she's not huddled in cafes, she's usually at home pricking her fingers in service of cosplay. Leah lives in San Diego, California, and Because You'll Never Meet Me is her debut novel. Follow her on Twitter @blunderkinder
Praise For…
---
"The humorous and increasingly emotional exchanges create cliffhangers, culminating in occasionally disturbing revelations about the boys' origins. Their link is heavily foreshadowed, while other plotlines remain open enough to give the ending a sense of anticipation as well as satisfaction. A witty, unusual take on friendship and parlaying weakness into power." —Kirkus Reviews
"Ollie and Moritz are memorable characters with engaging and often humorous voices. . . A quirky, almost whimsical feel even as Thomas grounds it in heartfelt and often painful emotion." —School Library Journal
"The two may be eccentric outcasts, but their conflicts, heartbreak, and eventual bond form a relatable and engaging narrative." —Publishers Weekly
"It's the distinct, deeply memorable voices of Ollie and Moritz that make this novel an affecting page-turner." —Horn Book Magazine