Carnivalesque (Hardcover)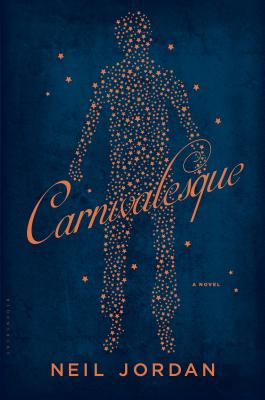 Staff Reviews
---
Carnivalesque is Neil Jordan's take on the old Irish folklore about children kidnapped by fairies, refracted through the curious prism of a Bradbury-esque dark carnival. Andy falls into Burleigh's Hall of Mirrors and becomes Dany, a carnie in a ghostly circus of immortals, children become fey and estranged from ordinary humanity. Caught between worlds, remembering his mother but growing into a strange new life, Dany illustrates the painful progress of growing up, the way the modern world builds itself on the ruins of the past, and how a life in art displaces mundane reality. Jordan's novel is vast, complex, endlessly allusive. Once you lose yourself in it, it is already too late: kidnapped, you can never come back.
— David
Description
---
Magical storyteller Neil Jordan steps into the realm of fantasy--for fans of Jonathan Strange & Mr. Norrell and The Watchmaker of Filigree Street.

It looked like any other carnival, but of course it wasn't. The boy saw it from the car window, the tops of the large trailer rides over the parked trains by the railway tracks. His parents were driving towards the new mall and he was looking forward to that too, but the tracery of lights above the gloomy trains caught his imagination . . .
Andy walks into Burleigh's Amazing Hall of Mirrors, and then he walks right into the mirror, becomes a reflection. Another boy, a boy who is not Andy, goes home with Andy's parents. And the boy who was once Andy is pulled--literally pulled, by the hands, by a girl named Mona--into another world, a carnival world where anything might happen.
Master storyteller Neil Jordan creates his most commercial novel in years in this crackling, cinematic fantasy--which is also a parable of adolescence, how children become changelings, and how they find their own way.
About the Author
---
Neil Jordan was born in 1950 in Sligo. His first book of stories, Night in Tunisia, won the 1979 Guardian Fiction Prize, and his subsequent critically acclaimed novels include The Past, Sunrise with Sea Monster, Shade, Mistaken, and The Drowned Detective. The films he has written and directed have won multiple awards, including an Academy Award (The Crying Game), a Golden Bear at Venice (Michael Collins), a Silver Bear at Berlin (The Butcher Boy), and several BAFTA awards (Mona Lisa, The End of the Affair). He lives in Dublin.
Praise For…
---
"Spellbinding . . . Carnivalesque contorts with magic and otherness, conjuring an eerily seductive shadow world." - O, the Oprah Magazine, "20 Books of Summer"
"The author's words flow with poetic cadence, conveying the light and dark sides of fairy tales from long ago. . . Fans of Jordan's The Drowned Detective (2016) will be entranced by this fantastical coming-of-age chronicle." - Booklist
"This new work from director/author Jordan is a house of mirrors, reflecting and distorting Celtic fairy tales to reveal new dimensions to timeless stories. Jordan's seductive narratives are unmatched in modern literature, although many will recognize parallels to Oscar Wilde, Ray Bradbury, Margaret Atwood, and Neil Gaiman." - Library Journal
"Poignant. . . . It's an entertainment, a pageant, a whirl of colourful characters and vividly realised events, to be enjoyed." - The Guardian
"Beautifully poetic prose." - Daily Mail
"Jordan's at his best when exploring the dark history of his circus fey or when detailing the quiet miseries of the supporting cast. . . there's much here to like." - Kirkus
"Neil Jordan demonstrates his vast literary imagination in Carnivalesque--a fantasia of the highest order that is marvelous, whimsical, dark and daring . . . More than fantasy, there's some magical realism at work . . . Jordan grounds his fantasy in painful elements of the human condition . . . Such self-conscious realism contrasts with moments of lavish poetic splendor in which Jordan gives his formidable powers of description free rein . . . The ending arrives breathlessly, with surprising emotional intensity. And the journey there is, in a word, magical." - Shelf Awareness
"A gripping tale unfolds." - Locus
"[A] novel-length dream . . . Inside this menacing, dripping, mist-bound urban landscape, Jordan takes care to give us a story and characters that aren't cut loose from the quotidian elements we recognize . . . [Jordan] knows how to pace a story -- an uncommon gift these days . . . His writing is quick and supple." - New York Times Book Review on THE DROWNED DETECTIVE
"Ghostly and mesmerizing, its narrative unreeling in a nearly hypnotic fashion, yet overlaid with a powerful sense of inevitability. A striking blend of mystery and Hitchcockian romantic suspense." – starred review, Booklist on THE DROWNED DETECTIVE
"A kind of ghost story that Kafka would have written, had he been inclined to that genre . . . You can never know where you are going with Neil Jordan . . . Extraordinary . . . Highly suspenseful . . . The Drowned Detective is a powerful study of the psychology of jealousy and a man's fear of being judged and found wanting; it is also a book about fate and chance, and how, within the seeming apparatus of destiny, a form of grace is revealed by the suprarational powers of the imagination." - The Guardian on THE DROWNED DETECTIVE
"There are plenty of slick literary thrillers around, but for the knotty morality of a troubled marriage, and noir of real emotional and psychological depth, The Drowned Detective is one to seek out." - British GQ on THE DROWNED DETECTIVE
"Jordan shows his strengths as a writer in the terrific dialogue and atmospheric imagery." - Publishers Weekly on THE DROWNED DETECTIVE