Black Bird of the Gallows (Hardcover)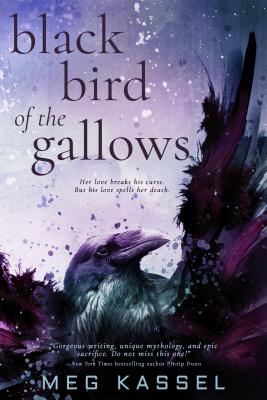 $17.99
Usually Ships in 1-5 Days
Staff Reviews
---
"Being a teenager and falling in love for the first time is always a rush of ups and downs filled with its own array of complications. When your dream guy happens to be a harbinger of death who turns into a crow that travels around with his murder feeding off of death energy, the level of complications escalates quite quickly, especially when a Beekeeper feeding off of chaos is thrown into the mix with his own dark agenda that could destroy any chance of happiness. Black Bird of the Gallows is a darkly fun read with an interesting mythology that hooked me right away. Its snarky protagonist who learns to embrace and love not only herself but those around her while on the run from natural and unnatural dangers is an engaging read with a beautiful ending that whispers answers as well as new questions into your mind as you read the last page. I am excited for more books in this world and getting to know more about these characters' stories and mythology. "
Description
---
"A pleasingly original contribution to the paranormal-romance genre." —Kirkus Reviews
A simple but forgotten truth: Where harbingers of death appear, the morgues will soon be full.
Angie Dovage can tell there's more to Reece Fernandez than just the tall, brooding athlete who has her classmates swooning, but she can't imagine his presence signals a tragedy that will devastate her small town. When something supernatural tries to attack her, Angie is thrown into a battle between good and evil she never saw coming. Right in the center of it is Reece—and he's not human.
What's more, she knows something most don't. That the secrets her town holds could kill them all. But that's only half as dangerous as falling in love with a harbinger of death.
Each book in the Black Bird of the Gallows series is STANDALONE:
* Cleaner of Bones (Prequel)
* Black Bird of the Gallows
* Keeper of the Bees
About the Author
---
Meg Kassel is an author of paranormal and speculative books for young adults. A New Jersey native, Meg graduated from Parson's School of Design and worked as a graphic designer before becoming a writer. She now lives in Maine with her husband and daughter and is busy at work on her next novel. She is the 2016 RWA Golden Heart© winner in YA. Her debut novel, Black Bird of the Gallows, releases fall of 2017.
Praise For…
---
"...the author has created an interesting world of mythical and paranormal creatures that will appeal to avid fans of the genre." – School Library Journal
"A pleasingly original contribution to the paranormal-romance genre." - Kirkus Reviews