Heart of Stone: An Ellie Stone Mystery (Ellie Stone Mysteries #4) (Paperback)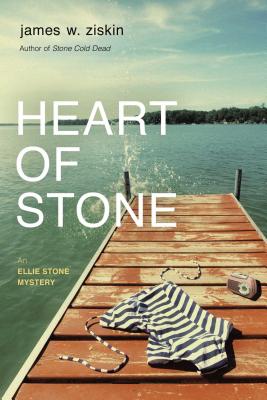 $15.95
Usually Ships in 1-5 Days
Staff Reviews
---
Heart of Stone by James W. Ziskin
The fourth installment to this mystery series featuring investigative reporter Ellie Stone may be my favorite yet. Set in 1961 Adirondacks, it opens with the chief of police, Tiny Terwilliger, asking Ellie to take photos of two men who have plummeted to their deaths off Baxter Rock. Their deaths are deemed accidental. Meanwhile, Ellie runs into childhood friends at nearby Arcadia Lodge and is drawn to their nights of wine and music, although she's drawn to charming Isaac the most. The more she learns about this group of left-wing Jewish intellectuals, the more suspicious she becomes, especially when she discovers one of the dead bodies is a former friend of theirs. Ellie tries not to let her feelings for Isaac cloud her judgment as she wades through long-buried secrets, religious fanatics, and Cold War ideology. This whirlwind romance brings out a softer side to the typically tough protagonist which I found endearing and real.
— From
Sarah Chen
Description
---
WINNER OF THE ANTHONY AWARD® for Best Paperback Original!
WINNER OF THE MACAVITY SUE FEDER MEMORIAL AWARD for Best Historical Fiction!
A 2017 EDGAR AWARD® NOMINEE!

In the waning days of a lazy August holiday, Ellie Stone is enjoying a bright Adirondack-lake morning. Nearby, two men plummet to their deaths just a few feet short of the water of a dangerous diving pool. A tragic accident, it seems. But the police quickly establish that the two victims—one a stranger to the lake and the other a teenaged boy from a nearby music camp—surely didn't know each other. So how did they come to die together?
 
Wading into a slippery morass of free-love intellectuals and charismatic evangelicals, Ellie's investigation forces her to navigate old grudges and cold war passions, lost ideals and betrayed loves. As usual, she sticks her nose where it's unwanted, rattling nerves and putting herself in jeopardy. But this time it's her heart that's also at risk.
About the Author
---
James W. Ziskin is the author of the Ellie Stone mysteries. Winner of the Anthony® Award for Best Paperback Original and the Macavity Award for Best Historical Novel (Sue Feder Memorial), his books have also been finalists for the Edgar®, Barry, and Lefty awards.
Praise For…
---
"Ellie is one of [our] favorite characters in the genre. Her intelligence and fearlessness belie her youth. She's at once vulnerable yet self-assured, intelligent yet impulsive, liberated yet yearning for a romantic connection. But what really sets Ziskin's books apart is the poetry of his writing… he excels at poetic and evocative descriptions of the fascinating characters and the nostalgic 1960's upstate New York setting."

—MysteryPeople

"James Ziskin has written another great read, imbued with a rich cast of characters and a tight plot that bristles with tension. Ellie Stone is the perfect protagonist—extraordinary but with enough girl-next-door charm in her that she instantly becomes a friend. This is one of my favorite books by one of my favorite authors, and it belongs on every mystery lover's to-be-read list."  

—Allen Eskens, USA Today-bestselling author of The Life We Bury

"Heart of Stone is the best Ellie Stone mystery yet, and that's saying something. The plot rockets along, fueled by colorful characters, intriguing clues, and Ellie herself, who is witty, vulnerable, and one of the finest and most fun amateur sleuths in crime fiction. I've read every Ellie Stone mystery, and I can't wait for the next."

—Mark Pryor, author of The Paris Librarian 

"Ellie Stone can hold her own (and her Scotch) against anyone, but what happens to a tough girl reporter on vacation when her defenses are down? When a lakeside accident doesn't add up, Ellie takes on the story. Heart of Stone is a big-hearted crush of a novel, brimming with rekindled kinship, forgiveness, love, and characters who will make readers feel true heartbreak."

—Lori Rader-Day, Anthony Award-winning author of The Black Hour

"Armed with her camera, wits, and a reporter's persistence, Ellie Stone navigates through the 1961 Adirondacks and does what she does best: asking questions and digging up the truth whether anyone likes it or not. When two strangers plunge to their deaths, and a prisoner escapes from a nearby prison, time on the lake quickly turns from pleasure to a mystery that demands to be solved. Ellie Stone has quickly become one of my favorite sleuths as she careens into the modern world, demanding her rightful place—and getting it—no matter how hard anyone tries to deter her or how much jeopardy she puts herself into."

—Larry D. Sweazy, award-winning author of See Also Deception

"Everything you'd hope it would be—gripping, unpredictable, and full of sexual intrigue. Ziskin creates a rich community of multifaceted actors—the volatile zealot, the cold beauty with dark secrets, the irresistibly sexy man from Ellie's past, and many more. A hard-drinking, sophisticated, modern girl, Ellie Stone herself is unforgettable. Alternately steely and vulnerable, Ellie sets off to discover what really happened to two young men found dead at the bottom of a cliff near a peaceful lake in the Adirondacks. Ziskin's expert plotting, living, breathing characters, and beautiful command of the language make Heart of Stone one of the best books I've read this year. You must read Heart of Stone."

—Jennifer Kincheloe, author of The Secret Life of Anna Blanc

PRAISE FOR THE ELLIE STONE MYSTERIES:

"Ziskin's...smart and aggressive protagonist has real personality.. .. superb. Don't miss this series."
—Library Journal STARRED REVIEW

"Ziskin is masterful with his 1960s nostalgic descriptions and his portrayal of the difficulties for women in the workplace during that era. His smart and sassy protagonist, Ellie Stone, is far from perfect. Ellie is, however, liberated, impulsive, and has a personality with heart. The plot is solid with plenty of twist and turns and a powerful ending that will leave readers wanting more."
—Examiner 

"Ellie is a refreshing, riotously funny amateur sleuth. Spot-on language and perceptions of the era are a plus."
—Publishers Weekly