Cast the First Stone: An Ellie Stone Mystery (Ellie Stone Mysteries #5) (Paperback)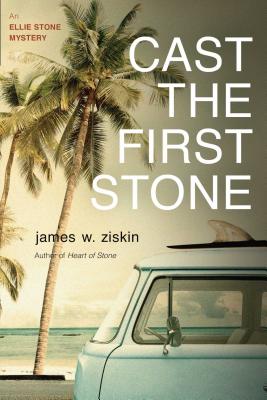 Staff Reviews
---
This is the fifth in the Ellie Stone mystery series and I know I say this every time, but I think it's my favorite. Perhaps it's the nostalgic 1960s Hollywood setting or maybe it's the skill in which Ziskin addresses homophobia and racism during that era. Ellie is assigned to write a story about Tony Eberle, a New Holland native, who lands a starring role in a Hollywood movie. The only problem is when she arrives on the Paramount lot, he's missing. Ellie is determined to follow through with her story and vows to locate Tony Eberle despite the film's producer turning up dead and a shrewd studio executive always staying one step ahead of her. The investigation takes Ellie into a more sinister Hollywood and she quickly realizes she's out of her depth. Perhaps what I appreciate most is the realistic way in which Ellie, a modern young woman for her time, acknowledges her conflicting feelings about homosexuality and alternative lifestyles. Another standout from Ziskin.
— From
Sarah Chen
Description
---
February 1962: Tony Eberle has just scored his first role in a Hollywood movie, and the publisher of his hometown newspaper in upstate New York wants a profile of the local boy who's made good. Reporter Ellie Stone is dispatched to Los Angeles for the story. But when she arrives on set to meet her subject, Tony has vanished. The director is apoplectic, Tony's agent is stumped, and the producer is found murdered.
     Ellie is on the story, diving headfirst into a treacherous demimonde of Hollywood wannabes, beautiful young men, desperately ambitious ingénues, panderers, and pornography hobbyists. Then there are some real movie stars with reputations to protect. To find the killer, Ellie must separate the lies from the truth, unearthing secrets no one wants revealed along the way. But before she can solve the producer's murder, she must locate Tony Eberle.
About the Author
---
James W. Ziskin is the author of the Ellie Stone mysteries. Winner of the Anthony® Award for Best Paperback Original and the Macavity Award for Best Historical Novel (Sue Feder Memorial), his books have also been finalists for the Edgar®, Barry, and Lefty awards.
Praise For…
---
ELLIE STONE MYSTERIES HAVE BEEN FINALISTS FOR THE EDGAR, ANTHONY,  BARRY, AND LEFT COAST CRIME "LEFTY" AWARDS
 
"The best current mystery series around."
—Cleveland Plain Dealer
 
"Ellie Stone is my number one pick for a fictional best friend."
—The Suspense is Thrilling Me

"Ellie Stone is the perfect protagonist—extraordinary but with enough girl-next-door charm in her that she instantly becomes a friend."  
—Allen Eskens, USA Today-bestselling author of The Life We Bury
 
"Ellie Stone is nothing short of charming. Read Cast the First Stone and you'll likely soon find yourself reading all of Ziskin's Ellie Stone books."
—Durango Telegraph

"Ziskin's writing displays a remarkable command of words, building them into a complex and convincing set and cast of characters."
–Suspense Magazine
 
"Ellie is one of my favorite characters in the genre. Her intelligence and fearlessness belie her youth. She's at once vulnerable yet self-assured, intelligent yet impulsive, liberated yet yearning for a romantic connection. But what really sets Ziskin's books apart is the poetry of his writing—a linguist by training, he excels at poetic and evocative descriptions of the fascinating characters and the nostalgic 1960's upstate New York setting."
—MysteryPeople
 
"James W. Ziskin is someone I can recommend to anyone who likes good mysteries. He has universal appeal."
—Deadly Pleasures Mystery Magazine
 
"Smart, relevant, and thoroughly compelling .... [I'm] eagerly awaiting Ellie Stone's next adventure."
—Reviewing the Evidence