Nowhere Near You (Hardcover)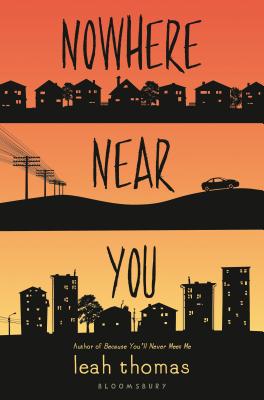 Staff Reviews
---
The saga of Ollie and Moritz continues in this sequel to the highly-praised debut novel from Leah Thomas, Because You'll Never Meet Me. I didn't think BYNMM needed a sequel so I went into this with some trepidation because the world of Ollie and Moritz was already so special and important. But I can say that Nowhere Near You is just as special and important, maybe even more so. If you haven't read BYNMM, I don't think it's necessary but it does help create an immediate sense of story. Ollie enthusiastically embarks on a road trip to find other kids like him and Moritz, the "Blunderkids." These are kids with unique characteristics, such as Ollie's allergy to electricity and Moritz's eyelessness. Meanwhile, Moritz attends an exclusive school despite his antisocial tendencies. The journey for both boys is heart-breaking, hilarious, and shocking. Nowhere Near You is a quirky contemporary science fiction take on the importance of friendship and identity. Another standout from Thomas.
— From
Sarah Chen
Description
---
Ollie and Moritz might never meet, but their friendship knows no bounds. Their letters carry on as Ollie embarks on his first road trip away from the woods--no easy feat for a boy allergic to electricity--and Moritz decides which new school would best suit an eyeless boy who prefers to be alone.
Along the way they meet other teens like them, other products of strange science who lead seemingly normal lives in ways Ollie and Moritz never imagined possible: A boy who jokes about his atypical skeleton; an aspiring actress who hides a strange deformity; a track star whose abnormal heart propels her to victory. Suddenly the future feels wide open for two former hermits. But even as Ollie and Moritz dare to enjoy life, they can't escape their past, which threatens to destroy any progress they've made. Can these boys ever find their place in a world that might never understand them?
Because You'll Never Meet Me
A William C. Morris YA Debut Award finalist
About the Author
---
Leah Thomas frequently loses battles of wits against her students and her stories. When she's not huddled in cafes, she's usually at home pricking her fingers in service of cosplay. Leah lives in San Diego, California and is the author of Nowhere Near You and the William C. Morris YA Debut Award finalist, Because You'll Never Meet Me.
Praise For…
---
"Unforgettable and distinct voices . . . A fantastic novel that will be especially resonant for readers who struggle with being or feeling outside of 'normal.'" - starred review, Booklist
"This brilliant follow-up to a clever and unexpected novel does exactly what it should in keeping the same epistolary format but taking these two unforgettable characters way out of their comfort zones and toward lives that are lived rather than waited out, and the result is powerful stuff indeed." - starred review, BCCB
"Ollie and Moritz continue to be compelling characters, struggling to figure out how to use their talents while living within their limitations. In many ways, they are no different than most teens, just a few steps further along the continuum." - VOYA
"Part mad science, part convincing portrayal of the volatile, resilient nature of friendship and grief--and that, as Ollie says, is not science fiction." - Kirkus Reviews
"The strength of the tale lies in the unique bond between Ollie and Moritz, both of whom are forced to confront their limitations and face their fears about their relative places in the world . . . Fans of the first volume will likely enjoy reading this new chapter in Ollie's and Moritz's lives." - School Library Journal
"The pacing is impeccable, as letters move from sunniness (Oliver) and bemused distance (Moritz) to both writers exploring their darkest fears, experiences, and worries for their futures." - starred review, BCCB on BECAUSE YOU'LL NEVER MEET ME
"A witty, unusual take on friendship and parlaying weakness into power." - Kirkus Reviews on BECAUSE YOU'LL NEVER MEET ME
"Ollie and Moritz are memorable characters with engaging and often humorous voices. . . A quirky, almost whimsical feel even as Thomas grounds it in heartfelt and often painful emotion." - SLJ on BECAUSE YOU'LL NEVER MEET ME
"The two may be eccentric outcasts, but their conflicts, heartbreak, and eventual bond form a relatable and engaging narrative." - Publishers Weekly on BECAUSE YOU'LL NEVER MEET ME
"It's the distinct, deeply memorable voices of Ollie and Moritz that make this novel an affecting page-turner." - Horn Book Magazine on BECAUSE YOU'LL NEVER MEET ME