Forever and a Death (Hardcover)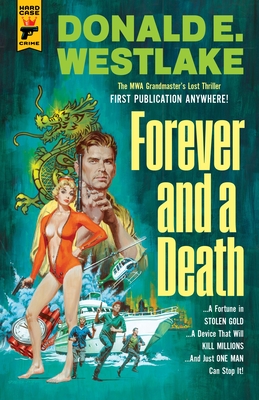 Staff Reviews
---
Although the blurb and cover photo on the book indicates that Forever and a Death was based on a possible James Bond story, it was rewritten by Westlake when the script was not chosen for a Bond film. Instead, he turned it into a wonderful espionage, chase thriller with bad guy businessman Richard Curtis seeking revenge on Hong Kong after Chinese rule was restored and he was no longer welcome there. He has hired engineer George Manville to create a method of leveling land on an island using a wave created by explosions. The first use of this technique is on an island to be developed into a resort. It will cause an oscillating wave that will turn the island, basically landfill and coral reefs, into "mud soup". The results will make it easier and cheaper to develop. Because there is the possibility that the delicate coral reefs will be damaged, Planetwatch, an ecological guardian group, has sent a ship to try and stop the explosions. Kim Baldur of Planetwatch decides on her own to jump off their ship and put herself between the explosions and the reef in the hopes that Curtis will cancel the job. He doesn't, of course, and she is caught in the explosion. Curtis reluctantly sends out a search party for her body, but she is found alive. He wishes she were dead, as it would cause bad publicity to be directed at his nemesis Planetwatch, so he plots to have her murdered. Enter hero George Manville. He rescues the girl and helps her escape. The chase has now begun, with Manville and Baldur trying to stop Curtis from carrying out his plans for the destruction of Hong Kong while also avoiding the hired guns chasing them. Since Curtis is a respected and powerful businessman, their first goal is to get someone, anyone, to believe them. Pick up this unexpected treat, Forever and a Death, because Donald Westlake was a great storyteller. You won't be disappointed if you are looking for a fun, escapist thriller.
— From
Linda's Latest List
Description
---
The Bond That Never Was

Two decades ago, the producers of the James Bond movies hired legendary crime novelist Donald E. Westlake to come up with a story for the next Bond film. The plot Westlake dreamed up – about a Western businessman seeking revenge after being kicked out of Hong Kong when the island was returned to Chinese rule – had all the elements of a classic Bond adventure, but political concerns kept it from being made. Never one to let a good story go to waste, Westlake wrote an original novel based on the premise instead – a novel he never published while he was alive.

Now, nearly a decade after Westlake's death, Hard Case Crime is proud to give that novel its first publication ever, together with a brand new afterword by one of the movie producers describing the project's genesis, and to give fans their first taste of the Westlake-scripted Bond that might have been.
About the Author
---
Donald E. Westlake is widely regarded as one of the great crime writers of the 20th Century. He won three Edgar Awards and was named a Grandmaster by the Mystery Writers of America.  Many of his books have been made into movies; Westlake also wrote the screenplay for "The Grifters," for which he received an Academy Award nomination.
Praise For…
---
"Shamelessly escapist fun" - Seattle Times

"The orange wetsuit, that gun pose, the comma of hair above the eye - stop twisting my arm, Hard Case!" -  Birth. Movies. Death

"unexpected treat...a posthumous bonus fans will cherish" - Kirkus Reviews

"There are real Bond villains in this ever-changing world in which we live in.  But there is no James Bond.  It's up to us to stop them.  Or join them.  Or be destroyed and/or ruled by them.  There are no other choices." -The Westlake Review

"great fun to read...and speculate on what a Westlake-written Bond movie might have been like. A newly discovered novel by one of the true grand masters of the genre is always a cause for celebration." - Booklist

"great stuff. Hugely recommended"  Atomic Junk Shop

"This is not the first time Hard Case Crime has published a neglected or forgotten work by Westlake. So we are again in their debt for gracing us with another reason to both mourn the loss and celebrate this incredibly talented author – and spend another few hours in his creative company." - Bookgasm 

"Hard Case Crime has another winner." Noir Journal

"my favorite posthumous Westlake so far and a fun read" Dangerous Dan's Book blog

"it's a bitch that we didn't get a Donald Westlake James Bond film starring Pierce Brosnan, but for me, we got something even better…a brand-new Westlake novel." Criminal Element

"An excellent thriller that, paired with the afterword, offers a revealing look at the inner workings of the Bond machine and there are certainly plenty of us who care about that. It's also a must-read for Westlake fans." - Military.com

"FOREVER AND A DEATH is worthy of an audience beyond Westlake completists. Even if Westlake is treading in somewhat unfamiliar waters here, his trademark setups are present, and frequently so." - BookReporter
 
"Highly recommended and one of the best reads of 2017"  Borg.com

 "a fantastic take on what an action thriller that dares to think outside of the box can be"  The Crime Review