The Good Byline: A Riley Ellison Mystery (Riley Ellison Mysteries #1) (Paperback)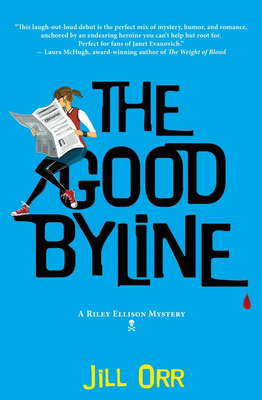 Staff Reviews
---
This laugh-out-loud debut cozy features broken-hearted wannabe obituary writer Riley Ellison. She works in the local library by day, and tries out a dating service in her off-hours in an effort to move on with her life after her long-time sweetheart leaves her in Tuttle Corner, Virginia for greener pastures in Colorado. Riley has a reputation as a bit of a troublemaker after her grandfather (an obituary writer) died under mysterious circumstances and she pressed the town to look into his "suicide." So when her high school friend, Jordon James "commits suicide," Riley doesn't believe it for a moment and begins to look into her death when she agrees to write Jordon's obituary. All of these plot lines are wrapped around some humorous moments and some great quotes about writing obituaries. For those looking for a new cozy heroine to root for, give Jill and Riley a try.
— From
Terry's Traffic Light Delights
Description
---
Meet Riley Ellison, a smart, quirky, young library assistant who's become known in her hometown of Tuttle Corner, Virginia, as Riley Bless-Her-Heart. Ever since her beloved granddaddy died and her longtime boyfriend broke up with her, Riley has been withdrawing from life. In an effort to rejoin the living, she signs up for an online dating service and tries to reconnect with her childhood best friend, Jordan James, a reporter at the Tuttle Times. But when she learns that Jordan committed suicide, Riley is shaken to the core. Riley agrees to write Jordan's obituary as a way to learn more about why a young woman with so much to live for would suddenly opt out. Jordan's co-worker, a paranoid reporter with a penchant for conspiracy theories, convinces Riley that Jordan's death was no suicide. He leads her down a dangerous path toward organized crime, secret lovers, and suspicious taco trucks. Riley's serpentine hunt for the truth eventually intersects with her emerging love life, and she makes a discovery that puts everything Riley holds dear--her job, the people she loves, and even her life--in danger. Will writing this obituary be the death of her?
About the Author
---
Jill Orr is the author of The Good Byline, the first in the Riley Ellison Mystery series. A graduate of the University of Missouri Journalism school, Orr serves on the board of the Unbound Book Festival. She lives in Columbia, Missouri, with her husband and two children. Riley Ellison will return in 2018 with The Bad Break! Learn more at www.jillorrauthor.com.