Brain XP: A Young Teenager's Perspective Living with Mental Illness (Paperback)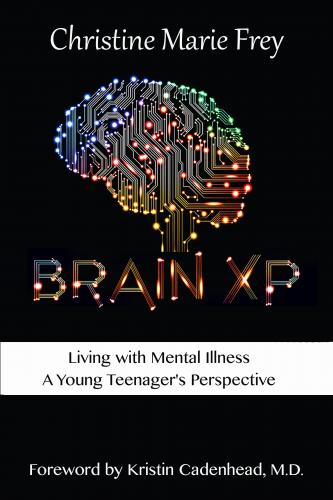 Description
---
Brain XP is written by 16-year-old author Christine Marie Frey. The book encompasses Christine's journey through self-harm, visual and auditory hallucinations, running away, hospitalization, and her forced removal from school. The subsequent experiences and Christine's diagnoses of depression, anxiety and bipolar disorder led her to seek out material written by other youth who'd gone through similar experiences; the absence of that material prompted her to create the Brain XP Community and write this book and the corresponding soundtrack. Each song in the Brain XP Soundtrack is original and written by Christine, based on each corresponding chapter in her book. Her goal is to provide hope to other youth battling mental illnesses and everyday teenage struggles, letting them know that they are not alone, they are not crazy, but rather their minds are special - they can think in ways other cannot. Their BRAINS are EXPANDED - they are BRAIN XP!


"Brain XP was born when my Mom & I were walking our dog Sparky. I had recently been diagnosed with a mental illness. I hate the words "mental illness" - they sound negative and harsh. I wanted to create a more positive term for mental challenges - I now have Brain XP. My mind & others like me share some incredible mental gifts - our minds are EXPANDED in special ways - we are unusually Creative, Empathetic, Insightful & Intuitive! Do we have bad days - of course we do! Don't you? But, with a little help - we can navigate the not so good days - just like every other young person learns to do. What we can't navigate is Stigma, Isolation & being Feared. We are normal teenagers & just need each other's support - please be our friends."
Christine Marie Frey
"Christine XP"

About the Author
---
Christine is a 16 year old teenager who lives in San Diego, California with her parents, Hans & Debbie, and older brother, James. Christine was brought up in a practicing Catholic family & went to private school from preschool to 8th grade. Christine starting having signs of depression & psychosis at age 12. She received enormous support from her 7th grade teachers & school administration & started counseling. After struggling with self harm, hallucinations, hospitalization, and her forced removal from school 6 months shy of her 8th grade graduation, Christine felt isolated & alone, but she never lost faith. On her journey to wellness, Christine started journaling, writing lyrics and music, and taught herself to play guitar as her primary coping strategies. Christine is dedicated to ending the stigma toward all teenagers with mental illness by "Brain XP" education - the use of her unique book illustrating the real life experiences of a young teenager suffering a mental illness along with her contemporary music, videos, social media & public speaking that reaches out to teenagers to show them they are not crazy nor alone, but rather - their brains are simply EXPANDED and they are special.